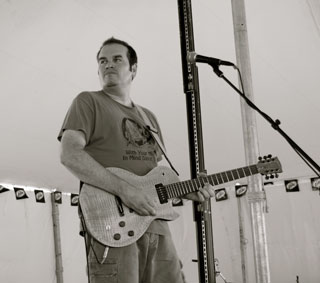 Booking Information:
Travis Kidd
11969 S. 92nd East Ave
Bixby, OK 74008
Phone:
(918) 527-1955

Email:
Website:
Availability:
Year round
Fees:
Solo Acoustic singer songwriter -- $800
Three piece combo (guitar, bass, drums) --$2000
Bio:
As a full-time musician from Tulsa, Travis Kidd averages roughly 250 shows per year as a solo artist and with his rock trio, The High Mids. His style can be hard to pin down, incorporating elements of classic and southern rock, country, blues, and folk, proving Kidd to be an eclectic mix as singer/songwriter and acclaimed guitar player. Simply calling him a southern rocker begins to touch on it, but doesn't do him justice or take into consideration his involvement in the regional music scene on a number of levels.
As a songwriter, Kidd has won a number of awards and was recognized as an official Oklahoma Centennial performing artist in 2007 with his song "Oklahoma Sunset" which was included as a nominee in the Centennial's search and naming as the Oklahoma's official state rock song.
As a musician, Kidd teaches "Intro to Live Music" and "Intro to electric, acoustic and bass guitar" for elementary and middle school music appreciation programs in the Tulsa area.
As a performer, Kidd's hectic schedule sees him play roughly 70 percent or more of his shows within Oklahoma, including featured appearances at a number of larger events including Tulsa International Mayfest, blues and BBQ festivals, Country Fever and as a repeated guest performer at the annual Woody Guthrie Folk Festival in Okemah.
Overall, Kidd's career as a musician displays a balance between performance, giving back to the arts and both incorporating and showing his deep Oklahoma roots. Although he is often included within Red Dirt circles, he doesn't consider himself a true part of the Red Dirt scene. Instead, Kidd's culmination of influences and love for his home state shine through to create what might be best and simply described as "Oklahoma music".