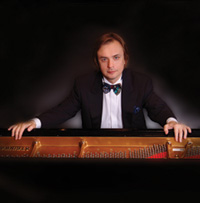 Booking Information:
Kate Kuleshova
1624 Walnut Cove
Edmond, OK 73013
Phone:
(405) 414-9107

Email:
Website:
Availability:
September through April
Fees:
Solo piano recital: $3,000 - $6,900
Performance with orchestra: $7,000 - $11,000
One-hour master class: $500
Bio:
The performing art of Van Cliburn Silver Medalist Valery Kuleshov, named the "Russian Virtuoso of the Romantic Piano", is based on the best Russian piano traditions. One can find in his playing emotional sincerity, rich colors, brilliant virtuosity, profound understanding of composers' styles, and freshness of interpretation. Mostly he is attracted to the romantic music by Schumann, Liszt, Chopin, Brahms, Scriabin, and Rachmaninov.
His playing has been compared to the style of Vladimir Horowitz with vast dynamic contrasts, consisting of tremendous double-fortissimos followed by sudden delicate pianissimos. Kuleshov has also accomplished the unique and incredibly difficult work of writing out by hand, note by note, the great master Vladimir Horowitz's ten unpublished piano transcriptions by listening only to the LP recordings. After hearing the recordings of his transcriptions played by Kuleshov, Vladimir Horowitz wrote to the young musician: "I was not only delighted by your fantastic performances, but I congratulate you on your keen ear and great patience that were required to write out, note by note, the scores of these unpublished transcriptions, by listening to my recordings." (October 6, 1987).
While maintaining an international performing schedule, Valery Kuleshov serves as artist-in-residence at the University of Central Oklahoma in Edmond, Oklahoma. He also performs duo piano repertoire with his incredibly talented daughter, Tatiana Kuleshova. Kuleshov has recorded ten CDs, featuring the music of Busoni, Chopin, Horowitz, Liszt, Mozart, Mendelssohn, Paganini, Rachmaninov, Saint-Sa?ns, and even John Philip Sousa's Stars and Stripes Forever.
A concert or recital by Valery Kuleshov is not just a performance, it is an experience for the heart, soul, and senses. It is for his sensitive interpretations, virtuostic technique, glittering bravura, and passion for the music that he has been named the "Russian Virtuoso of the Romantic Piano."