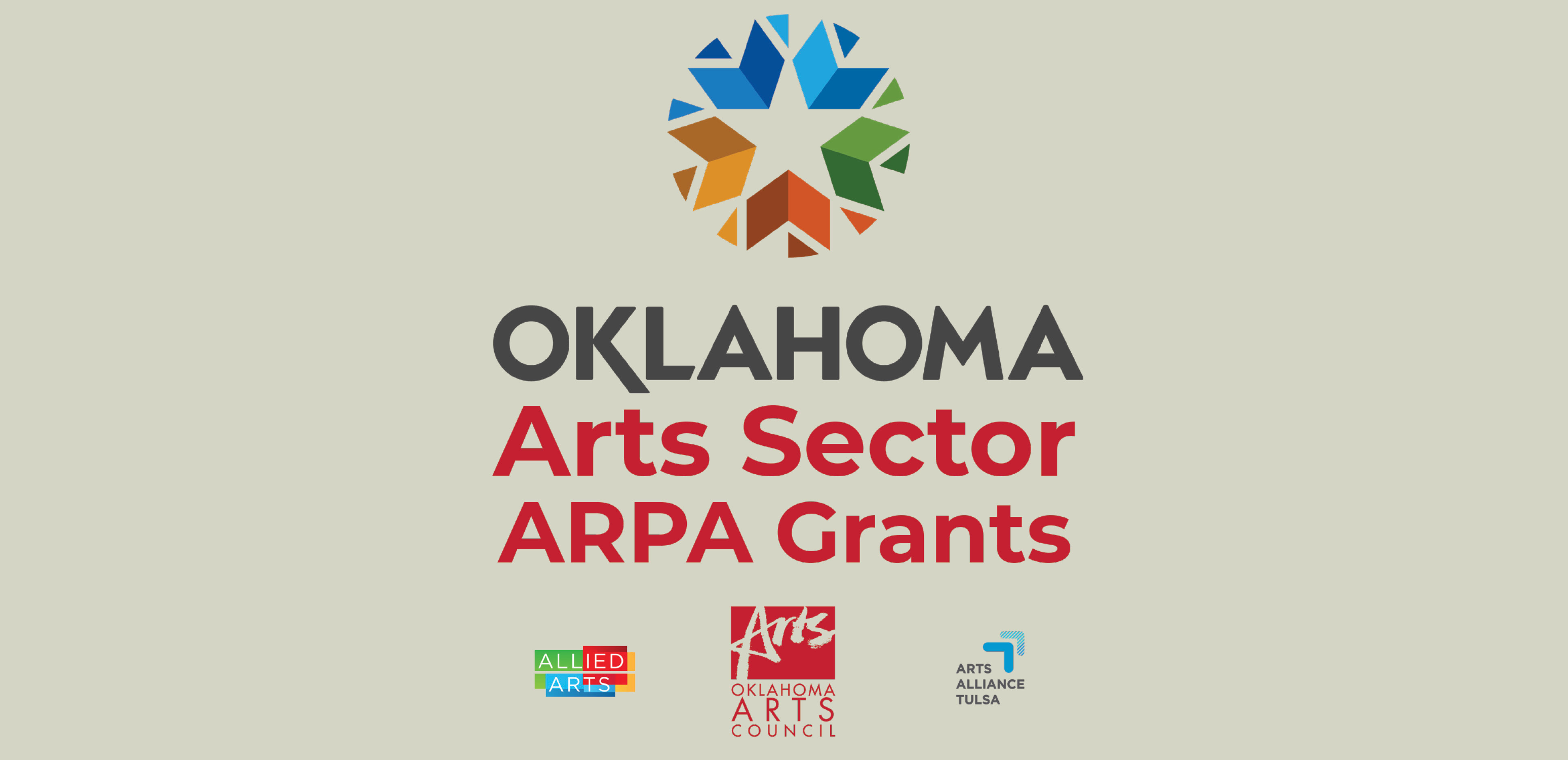 Oklahoma Arts Sector ARPA Grants
In spring 2023, a transformational $10 million investment of state American Rescue Plan Act (ARPA) funding for Oklahoma's arts and cultural sector was overwhelmingly advanced by the Oklahoma State Legislature and approved by the Governor. Submitted by the Oklahoma Arts Council in collaboration with regional partners Allied Arts OKC and Arts Alliance Tulsa, the proposal was designed to boost the rebuilding of the sector across all 77 Oklahoma counties while catapulting it forward as an asset for developing creative workforce and strengthening the economy. Made possible through the $10 million investment, Oklahoma Arts Sector ARPA Grants are one-time grants available to 501(c)(3) nonprofit organizations with arts programming.
Program Objectives
RESTORATION: Address the disproportionate impact of the pandemic on the arts sector

WORKFORCE: Invest in arts and cultural sector job recovery and support workforce development and retention across industries

IMPACT: Empower organizations to restore and broaden their services to communities

INFRASTRUCTURE: Provide for the transformation of critical assets to realize an enduring vision for the arts sector

RESILIENCY: Ensure a robust arts sector flourishes in communities across the state for generations of Oklahomans
Who Can Apply?
Nonprofit organizations with arts programming, including but not limited to:
Local arts councils
Presenting organizations
Community theaters
Symphony orchestras
Festivals with arts programming
Social/community service organizations with arts programming
Museums
Cultural organizations with arts programming
Organizations must have a minimum operating budget of $10,000. Be sure to review full criteria for eligibility in the Grant Program Guidelines.
Deadlines
Eligibility Verification Deadline: October 31, 2023
(NOTE: All organizations must submit required documents so that the Oklahoma Arts Council can verify their eligibility to apply for a Oklahoma Arts Sector ARPA Grant. Download the Grant Program Guidelines for the list of required documents.)

Application Deadline: December 15, 2023
Grant Amount
Total grant award amount may be a combination of funding for financial loss from the pandemic and funding for ongoing and new allowable expenses (capital projects, operations, salaries, artist and other contract fees, training, and marketing). See Grant Program Guidelines for details.
Organization Arts Operating Budget
(during negative financial impact period)

Estimated Grant Award

Maximum Grant Request

$5 million and above

$250,000

up to $500,000

$3 million to $4,999,999

$200,000

up to $400,000

$1 million to $2,999,999

$125,000

up to $250,000

$500,000 to $999,999

$80,000

up to $160,000

$250,000 to $499,999

$60,000

up to $120,000

$100,000 to $249,999

$40,000

up to $80,000

$50,000 to $99,999

$20,000

up to $40,000

$25,000 to $49,999

$12,000

up to $24,000

$10,000 to $24,999

$7,500

up to $15,000
Documents and Links
Grant Program Guidelines
Grant Terms and Conditions (available soon)
Grant Portal (available soon)

Who to Contact for Help
For questions about grant system access, contact:

Martyna Sandoval, Grants and Programs Associate
(405) 521-2040 (office)
(405) 239-0257 (cell)
martyna.sandoval@arts.ok.gov
For questions about managing your grant award, contact:

Thomas Tran, Grants Director
(405) 967-3290 (cell)
(405) 521-2041 (office)
thomas.tran@arts.ok.gov