Governor David Lee Walters, 1991-1995
by Harold T. Holden
Bronze
Commissioned by the Oklahoma State Legislature
Dimensions: 25 height
Dedicated 2002
Location: Second Floor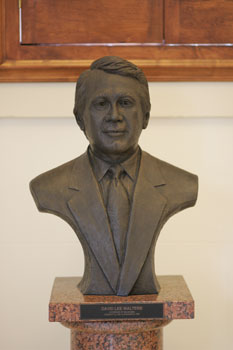 The Artwork
David Lee Walters was born November 20, 1951, near Canute, Oklahoma, in Washita County and is the son of Harold and Evelyn Walters. He graduated as valedictorian from Canute High School in 1969, and from the University of Oklahoma in 1973 with a Bachelor's degree in Industrial Engineering. In 1977, Walters earned a Master of Business Administration from Harvard University. Walters served as assistant and associate provost at the University of Oklahoma Health Sciences Center where, at age 29, he became the youngest executive officer in the university's history. He served on the Commission for the Oklahoma State Department of Health Services in 1983, and was appointed co-chairman of the Governor's 100-member Commission on Government Reform in 1984.

On November 6, 1990, Walters was elected to serve as the 24th governor of Oklahoma and served until 1994. As Governor, David Walters presided over a $7 billion organization that employed 135,000 people. Governor Walters cut the number of state government employees for the first time in the history of the State of Oklahoma, aggressively promoted economic development and achieved a 15-year record in job growth. Governor Walters successfully opposed all tax increases and yet oversaw a 30% increase in education funding. Walters passed the first bond issue in Oklahoma in 25 years, which invested over $350 million dollars in the State's infrastructure. He advanced the first workers compensation insurance reform in 15 years, causing substantial rate reductions. Governor Walters led trade delegations to eight nations during his term and completely reorganized international trade for the State of Oklahoma. He was nominated by the Democratic Party to run for the U.S. Senate in 2002.

At the conclusion of Governor Walters' four-year term, he entered the independent power industry and is the owner of Walters Power International based in Oklahoma City.
The Artist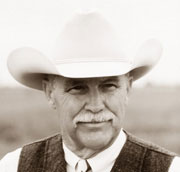 Affectionately referred to simply as "H", Harold Holden was born in Enid, Oklahoma, to a family of avid inventors and engineers. Holden earned his degree from the Texas Academy of Art in Houston after first attending Oklahoma State University. He began his career in the commercial art field as the art director of Horseman Magazine. While holding the position, Holden began to dabble in painting and sculpture, most often documenting the American West. After serving in Vietnam with the Navy, Holden decided to stake out a career as a full time artist in 1973. He received numerous commissions from the National Cattlemen's Association in the mid 1980s, and soon regard for his work grew to the point that private art collectors began to take stock of Holden's art. In 1987, Holden was chosen to sculpt the first of his many monuments that are currently scattered around the state of Oklahoma. His work has since graced numerous publications, and has even been featured as a U.S. postal stamp, 92,000,000 of which were released in 1993. Holden's work is included in various collections throughout the country, including the Oklahoma Arts Council collection. He has received the Lifetime Achievement Award from the Oklahoma Sculpture Society, as well as the Oklahoma Governor's Art Award.