Celebrating a Shared Spirit of Freedom:
Oklahoma y México
Mexican Independence Day (1821-2021)
Governor's Gallery


A special exhibition of artwork by José Sacal

September 17 - December 3

El David by José Sacal
The arts have long been valuable tools in diplomatic relations, fostering cultural understanding and rapport between governments. An expression of the regard for the virtues of liberty and self-determination shared by the people of Oklahoma and the people of Mexico, this exhibition of artwork by José Sacal in the Governor's Gallery at the Oklahoma State Capitol coincides with the 200th anniversary of Mexico's independence from Spain on September 16 and with National Hispanic Heritage Month.
José Sacal (1944-2018) was born in the Mexican city of Cuernavaca where at an early age he learned about painting and modeling at the National Institute of Fine Arts of Cuernavaca. As a young man, he studied medicine and traveled the world extensively. Years spent learning about the body and mind and living in marginal communities fundamentally shaped Sacal's eventual artistic career. A prominent representative of contemporary sculptural art, Sacal's work ranges from small exhibition sculptures to monumental works of public art that have been installed worldwide in Mexico City, Israel, Los Angeles, and elsewhere.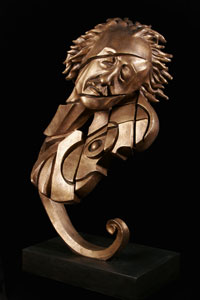 The Governor's Gallery exhibition is comprised of Sacal sculptures inspired by other works of art and portraits of historical figures. Observable in the works on display is Sacal's use of surreal nuance and flirtations with the abstract. For these works, the artist extracted details, objects, and essences from prominent sources in art and history, deconstructing and recreating them through his creative process, which was often defined by experimentation and a willingness to find new meaning in old forms. Works in the exhibition include references to notable figures such as Abraham Lincoln, Albert Einstein, Charlie Chaplin, Frida Kahlo, Gandhi, Louis Armstrong, and Winston Churchill, among others.
Sacal's work, reflecting the human experience at both the individual and societal levels, provides an opportunity for viewers to consider how the arts empower a deeper understanding of that which is unique, and that which is universal.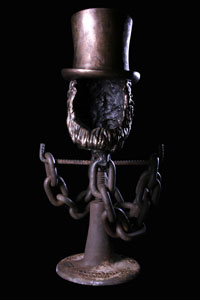 The exhibition is presented by the Office of Governor J. Kevin Stitt and the Oklahoma Arts Council in partnership with the Consulate of Mexico in Little Rock and The José Sacal Foundation.
The Oklahoma Arts Council wishes to express its appreciation to Gregorio Luke, the original curator of the selection of artwork on display in the Governor's Gallery.
Located on the second floor of the Oklahoma State Capitol, the Governor's Gallery is open Monday through Friday, 9:00 a.m. to 5:00 p.m. Please note the room may occasionally be closed for official business.