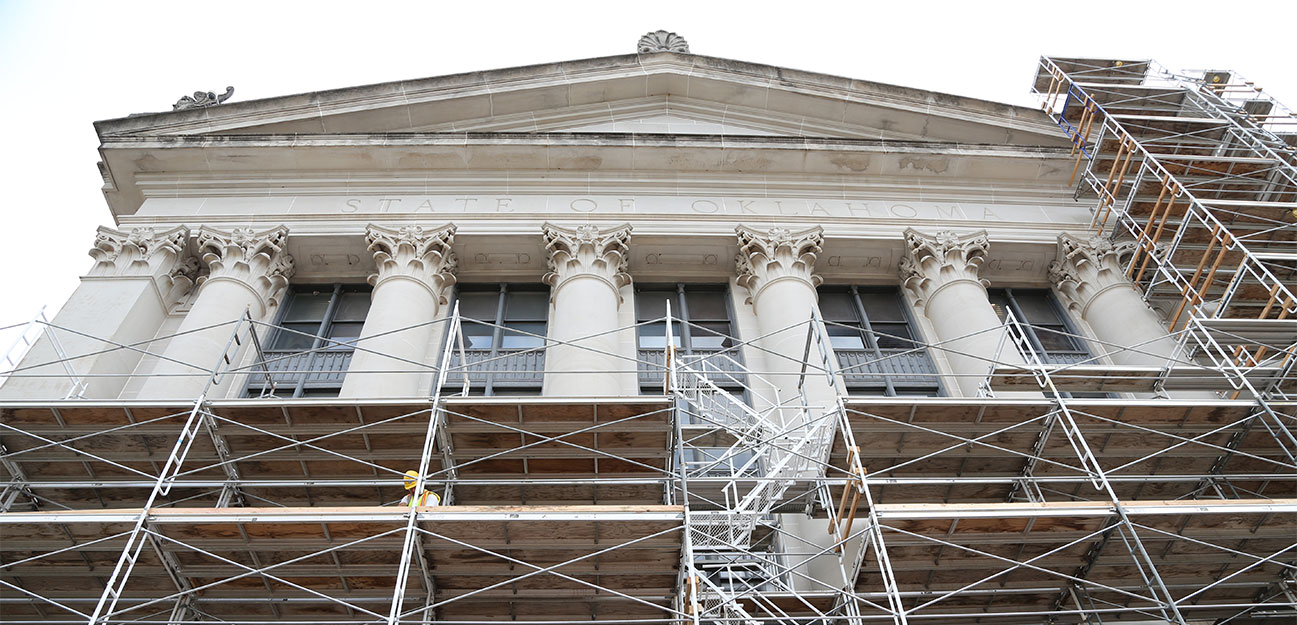 East Gallery

First Floor
Oklahoma State Capitol
PLEASE NOTE: Due to a multi-year project to restore the Oklahoma State Capitol, exhibitions in the East Gallery and North Gallery have been suspended for the foreseeable future. In the meantime, the Governor's Gallery will be featuring special exhibitions of photography that will chronicle the extensive work being conducted to revive the historic 100-year-old building.
We invite you to learn more about the rotating series of exhibitions in the Governor's Gallery here.
For questions about the artwork at the Oklahoma State Capitol, please contact our Visual Arts Director.
The History of the Oklahoma State Capitol Galleries
On November 11, 1979, Governor George Nigh, members and staff of the Oklahoma Arts Council, and members of the Assembly of Community Arts Councils of Oklahoma cut the ribbon on a space in the Oklahoma State Capitol that would feature rotating exhibitions of works by Oklahoma artists. Located on the second floor of the Capitol, adjacent to the Governor's ceremonial Blue Room, the newly established Governor's Gallery would give thousands of visitors to the Capitol an opportunity to view and appreciate the creative expression being originated by talented artists working in communities throughout the state. It would also provide Oklahoma artists an important public venue for increasing exposure to their work.
A few years after the opening of the Governor's Gallery, in 1986, Gov. Nigh and the Oklahoma Arts Council opened a second gallery in the east corridor of the Capitol's first floor. The Governor's Gallery and the East Gallery would later be complemented by the establishment of the North Gallery, located on the first floor, in the early 1990s. A fourth gallery, the Betty Price Gallery, was dedicated in 2006 to serve as the home of the Oklahoma State Art Collection. Select works in the collection are on display in the museum-quality space located on the first floor of the state Capitol.