Michael Elizondo, Jr.
In One Accord
East Gallery - October 17, 2022 – January 13, 2023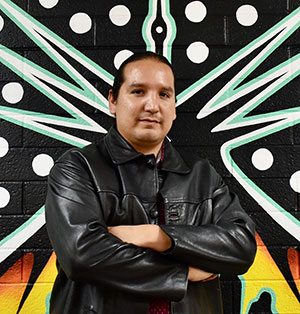 Born and raised in Oklahoma, Michael Elizondo, Jr. has lived in many communities across the state. He was born in Tulsa, raised in Tahlequah, and now lives in El Reno with his wife, Dayrah, and their three children. During his studies he lived in Shawnee and Norman. Elizondo, Jr. has been a professor of fine art and art history, as well as Cheyenne language, at colleges and universities statewide, recently serving as the Director of the School of Art at Bacone College in Muskogee. Elizondo, Jr. is a citizen of the Cheyenne and Arapaho Tribes of Oklahoma and is also of Kaw and Chumash descent. He spent several years helping to learn and revitalize the Cheyenne languages with the Cheyenne and Arapaho Tribes of Oklahoma.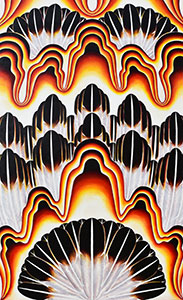 Michael Elizondo, Jr.'s father was an art teacher, and he remembers with excitement the thrill of attending art classes and exhibitions as a child. His father's profession presented this invaluable access to fine arts education and experiences in his formative years. Elizondo, Jr. acknowledges the strong influence of his grandmother's beadwork on his artistic style, and the desire to continue important cultural practices. The linework and symbolism central to much of his artwork on display in this exhibition reflect designs frequently seen in Cheyenne beadwork. His compositions are also influenced by his participation in Native American Church. Elizondo, Jr. is an advocate of hands-on-learning and mastery of craftsmanship, as seen in the precise woodworking of the painted wood panels in this exhibition.

While Elizondo, Jr. has always demonstrated creative tendencies, he didn't actively pursue formal training in this field of study until he enrolled in college. Michael Elizondo, Jr. received his Bachelor of Fine Arts from Oklahoma Baptist University in 2008, and his Master of Fine Arts in painting from the University of Oklahoma in 2011.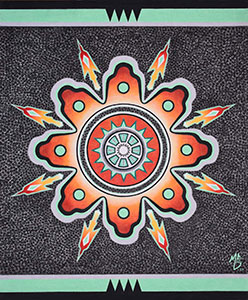 Since that time, he has been striving to perfect his craft in woodwork, painting, and works on paper. Elizondo, Jr. invests the time to continue expanding his knowledge of contemporary fine art by visiting galleries and museums around Oklahoma. His artwork has been featured in numerous solo and group exhibitions regionally and nationally.
Elizondo, Jr. has dedicated much of his time to teaching art and art history among various colleges and mentoring programs within the state of Oklahoma. He finds that sometimes it is a struggle to work and live as an artist but has been lucky enough in the past months to have finally been given the time to work full time at his practice.

The subject matter of his works stems from the fascination of the aesthetics and meanings within design. Through color, shape, and representation, Elizondo, Jr. merges his individual life and Indigenous influences to reflect an evolving state of culture and identity.

This exhibition is presented by the Oklahoma Arts Council. For more information, contact Jarica Walsh at 405-521-2030 or jarica.walsh@arts.ok.gov.
About the Oklahoma State Capitol Galleries
The Oklahoma Arts Council supports the work of professional Oklahoma artists by showcasing their work in three galleries in the Oklahoma State Capitol. Exhibitions exemplify the outstanding and diverse artistic talent of the people of Oklahoma while enriching lives and promoting public interest and understanding of the arts. Exhibitions in the North, East and Governor's galleries rotate every 60 days and are viewed by thousands of people from around the world who work in and tour the historic building.
Portfolio Submission
Artists interested in having their artwork considered for exhibition in the Oklahoma State Capitol galleries may submit their portfolios using the link below. Submission of a portfolio does not guarantee an exhibition.