Erica Bonavida
Flags, Flora & Fauna
East Gallery - February 2023 - April 2023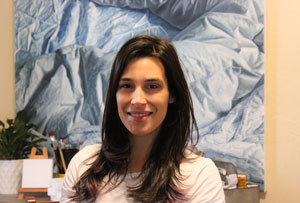 Working in oil paint, Erica Bonavida favors the meticulous work of replicating and emulating a variety of textiles and textures. Sculpting the fabric with her brush while developing the composition, she creates movement and form. Animals and figures incorporated into her work serve as a new challenge in navigating dimension through line and form.

An homage to her home state, this exhibition, Flags, Flora and Fauna, celebrates the enduring legacy of the land and people. Driven by the labor-intensive details that mark her work, Bonavida's process allows her to study and connect with subjects on a deep level. One special subject in this exhibition is the Oklahoma flag. The flag used as the model for the painting once flew on the Capitol grounds in service to the state.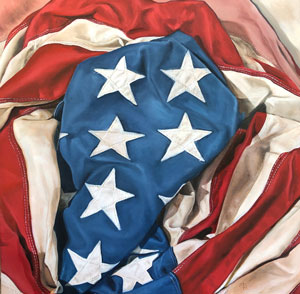 Bonavida's detailed paintings showcase textiles from an intimate vantage point. Bonavida comes from a sculptural background, therefore her two-dimensional work is enhanced by her shading details. Precisely pairing texture and color to still life settings and subjects, Bonavida creates fluid movement and scale with subtle shifts creating colorful harmonies.
Bonavida shares, "We are connected to the land, the trees, the birds, and all life—life that came before us and life that continues to thrive alongside us. We are one. We, as people, are represented in the tattered and worn flags of Oklahoma and the United States. Each flag has a history and story to tell. Their story is ours."
Erica Bonavida was born and raised in Oklahoma. She began painting as a high school senior and graduated with her Bachelor of Fine Arts from the University of Central Oklahoma in 2014. In 2019, Bonavida served as the first Artist in Residence for the City of Oklahoma City where she engaged with the public while creating a new body of work at City Hall. She maintains a studio at her home in Edmond.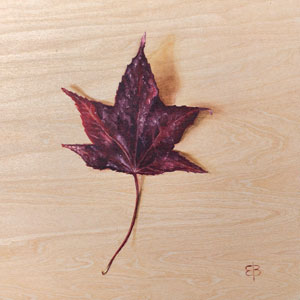 Bonavida has exhibited her work in group exhibitions across the state, including at the Oklahoma Hall of Fame in Oklahoma City and The Krottinger Family Gallery at the University of Central Oklahoma in Edmond.

About the Oklahoma State Capitol Galleries
The Oklahoma Arts Council supports the work of professional Oklahoma artists by showcasing their work in three galleries in the Oklahoma State Capitol. Exhibitions exemplify the outstanding and diverse artistic talent of the people of Oklahoma while enriching lives and promoting public interest and understanding of the arts. Exhibitions in the North, East and Governor's galleries rotate every 60 days and are viewed by thousands of people from around the world who work in and tour the historic building.
Portfolio Submission
Artists interested in having their artwork considered for exhibition in the Oklahoma State Capitol galleries may submit their portfolios using the link below. Submission of a portfolio does not guarantee an exhibition.