Wallace Owens, Jr.
La Vida
East Gallery - May 2023 - September 2023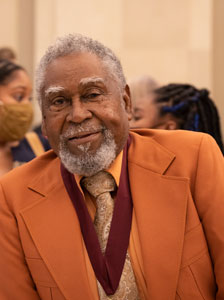 Wallace Owens, Jr. is a painter, sculptor, and printmaker. Born and raised in Muskogee, Owens now calls Guthrie home. Using materials as varied as his subjects, he depicts abstracted and representational landscapes, cityscapes, portraits, flora, and fauna. Oil and acrylic paint, wood, metal, and bronze are among his materials of choice.
Art is intergal to Owens' entire existence; he says, "I just fell in love with art because it was me." An avid traveler, his paintings are adventurous and lively. From the buzzing of a bee in flight to the warmth of strong sunlight on city buildings in Mexico, his art is full of energy. Owens' vibrant, abstract paintings often accentuate the feeling of form rather than the form itself. One work on view, "Spanish Guitar," is done in a Cubist style; intersecting geometric forms camouflage the shape of two instruments. Several other works are reminiscent of Futurism, another early 20th century art movement. Cubism began in Paris with Pablo Picasso and Georges Braque, and Futurism followed a couple of years later in Italy, borrowing stylistic choices from Cubism but focusing on celebrating the dynamism of the modern world.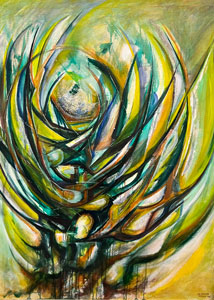 Owens' artistic practice includes notable sculpture commissions for Langston University, including a bronze bust of a past president and a 20-foot metal work for the institution's centennial. Owens has also created bronze sculptures depicting Bill Pickett, a Black Oklahoma cowboy, and Crispus Attucks, a Black and Native hero of the Revolutionary War.
Owens' education includes a bachelor's degree in arts education from Langston University, a master's degree in education from Central State University—now the University of Central Oklahoma (UCO)—and a master's degree in fine arts from the University of Guanajuato, Mexico. His passion for learning matches a passion for educating, and he has held teaching positions at two of his alma maters, Langston University and UCO. Never tired of learning or traveling, he pursued further education throughout his career, including studying painting at the American Center for Artists in Paris, France, and—as a Fulbright Scholar—art history at the University of Rome, Italy. Traveling through West Africa, he immersed himself in African art and culture. In Greece, he researched and sketched historical sites. He now supports his community through Owens Arts Place Museum in Guthrie. For Owens' efforts through the museum as well as his many years as an educator, Governor Stitt and the Oklahoma Arts Council presented him with a Community Service Award at the 44th Oklahoma Governor's Arts Awards ceremony in 2021.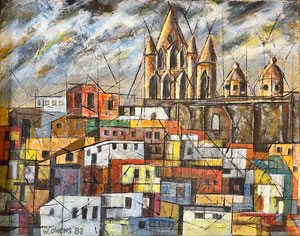 About the Oklahoma State Capitol Galleries
The Oklahoma Arts Council supports the work of professional Oklahoma artists by showcasing their work in three galleries in the Oklahoma State Capitol. Exhibitions exemplify the outstanding and diverse artistic talent of the people of Oklahoma while enriching lives and promoting public interest and understanding of the arts. Exhibitions in the North, East and Governor's galleries rotate every 60 days and are viewed by thousands of people from around the world who work in and tour the historic building.
Portfolio Submission
Artists interested in having their artwork considered for exhibition in the Oklahoma State Capitol galleries may submit their portfolios using the link below. Submission of a portfolio does not guarantee an exhibition.