Karin Walkingstick
Old Way, New Day
Governor's Gallery - November 1, 2022 - January 13, 202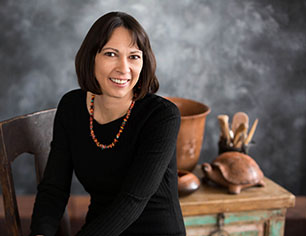 Karin Walkingstick's foray into professional artmaking occurred later in life than it does for many artists. A citizen of the Cherokee Nation, Walkingstick has had a passion for art and creative expression since a young age, however, it was not until after raising a family that, in 2013, she found the time in her schedule to venture into a pottery class taught by Cherokee National Treasure Jane Osti. There, she discovered a joy of working with clay that the artist says altered her life. It was a change illustrated in a career that quickly advanced and has earned Walkingstick commercial and critical success in her practice.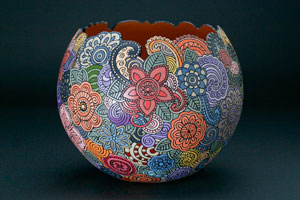 In an artistic career spanning less than 10 years, Walkingstick has already garnered numerous honors, including first place in contemporary pottery at the Red Earth Festival and first place in the Emerging Artist and People's Choice categories at a show presented by the Cherokee Heritage Center. She has been a consistent participant in regional markets and exhibitions, and she recently opened her own studio in Claremore.

Walkingstick's early experience as a member of Osti's class turned into a mentorship dynamic with Osti, who introduced Walkingstick to techniques echoing those of her Cherokee culture. In creating her pottery, Walkingstick uses methods handed down through generations of artists, employing Southeastern design elements as she creates one-of-a-kind works that force her to challenge and expand on her creative sensibilities.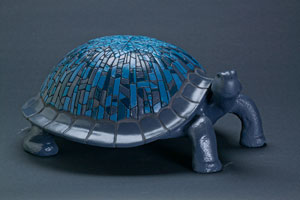 Though grounded in the techniques gleaned from her work under Osti, as Walkingstick developed in her work as an artist, she began feeling inspired to take it in new directions. Her methods now include the addition of color using masonry dyes in clay slip applied directly on the surface. She uses commercial clay fired in a kiln, open ground, or over wood, and her pieces are hand-coiled and finished with stone burnishing to ensure strength and a smooth surface.

Though experimental at first, Walkingstick's pieces rapidly became popular, with the demand helping drive momentum for a career that continues to ascend. Walkingstick's Capitol exhibition, featuring an impressive variety of pieces borrowed from private collections, represents her first solo exhibition.
About the Oklahoma State Capitol Galleries
The Oklahoma Arts Council supports the work of professional Oklahoma artists by showcasing their work in three galleries in the Oklahoma State Capitol. Exhibitions exemplify the outstanding and diverse artistic talent of the people of Oklahoma while enriching lives and promoting public interest and understanding of the arts. Exhibitions in the North, East and Governor's galleries rotate every 60 days and are viewed by thousands of people from around the world who work in and tour the historic building.
Portfolio Submission
Artists interested in having their artwork considered for exhibition in the Oklahoma State Capitol galleries may submit their portfolios using the link below. Submission of a portfolio does not guarantee an exhibition.