Beatriz Mayorca
Urban Activation
Governor's Gallery - February 2023 - April 2023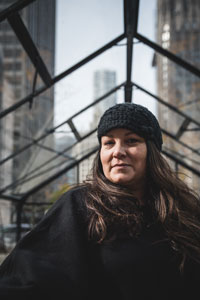 Beatriz Mayorca is a Venezuelan-born multimedia artist based in Oklahoma City since 2005. Working primarily in three-dimensional forms, she brings her playful curiosity and contemporary, geometric designs to enlighten, encourage, and bring forth pleasant memories and emotions.
As a contemporary artist working outside her country of origin, Mayorca draws inspiration and materials from her Venezuelan heritage and everyday surroundings. Pulling from the coastal culture of the Caribbean, the rigidity of the Andes Mountains, and the vibrancy of the Amazon rainforest, Mayorca's work melds textures and colors with ease. Juxtaposing raw, unfinished surfaces with high gloss finishes creates dimension and intrigue.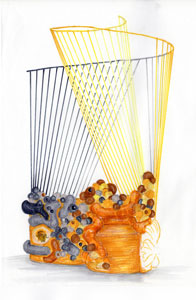 Urban Activation features scaled maquettes and renderings created to develop three-dimensional public art pieces commissioned or proposed throughout Oklahoma City and Norman. Mayorca responds to the opportunity to activate the landscape or surrounding environment using a contemporary approach, pushing the boundaries of size and scale to surprise and delight the community. The playful nature of Mayorca's artwork designs—such as the large-scale paper airplanes—highlights the value of public art in building community identity and pride.
The maquette and rendering process is an important step in creating public art to ensure the artist identifies construction details and makes design modifications. Maquettes are also a crucial element of the selection process for public art, as those commissioning the artwork can most easily capture the vision of an artist's proposal through the review of the smaller-scale art. Mayorca embraces the opportunity to reimagine utilitarian elements such as shade structures, bike racks, tables, and benches as lively public art that enhances and defines the character of a community.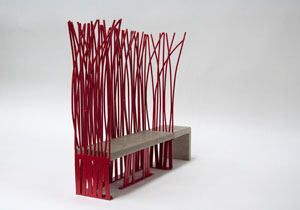 Mayorca received her Bachelor of Fine Arts from the University of Central Oklahoma where she currently teaches in the School of Design. A recipient of multiple local and national awards for her public art and design, she is the founder, artist, and designer of B Mayorca, Art & Design Studio.
About the Oklahoma State Capitol Galleries
The Oklahoma Arts Council supports the work of professional Oklahoma artists by showcasing their work in three galleries in the Oklahoma State Capitol. Exhibitions exemplify the outstanding and diverse artistic talent of the people of Oklahoma while enriching lives and promoting public interest and understanding of the arts. Exhibitions in the North, East and Governor's galleries rotate every 60 days and are viewed by thousands of people from around the world who work in and tour the historic building.
Portfolio Submission
Artists interested in having their artwork considered for exhibition in the Oklahoma State Capitol galleries may submit their portfolios using the link below. Submission of a portfolio does not guarantee an exhibition.