John David Rule
Rising Westward
Governor's Gallery - May 2023 - September 2023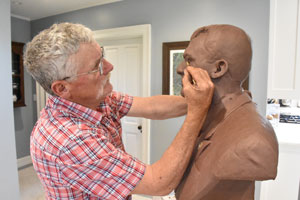 John David Rule is an accomplished leather worker and sculptor from Oklahoma. He began working with leather at age eleven and completed his first saddle by sixteen. He honed his skills at a saddlery shop in Oklahoma City, which he eventually purchased with his wife, Dona Kay. Together, they put in long hours raising a family and running a business.
After 25 years focused on leather work, Rule eventually added sculpting to his repertoire. "I'd always wanted to sculpt…it was always in the back of my head," says Rule, who at age twelve won a state-wide sculpture contest with a small wire horse. Although the methods used in sculpting and leather work are different, he found commonalities. "I can't add or take away anything on a piece of leather…but I am essentially still sculpting…trying to bring a flat plane to make it look like it's three-dimensional."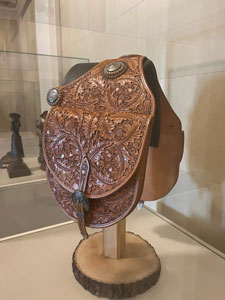 Rule is captivated by his home state. "The West encompasses many things—great landscape vistas, sunrises, sunsets, wildlife, cowboys, Native culture past and present, and human interaction with all of the above," he says. This inspiration is seen in the patterns of his leatherwork. A saddlebag decorated with an exquisite oak leaf and acorn motif demonstrates Rule's eye for design. Rule is also inspired by his wife—a jacket and purse on display were made for Dona Kay.
While Rule's leatherwork is full of intricate designs, his sculptures capture subjects in still and dynamic poses. His keen observation of the natural world shines in scenes where geese are poised for flight, a bison mother is resting with her calf, and a mother bear is standing tall above her cubs. "Disconnected" is perhaps his most energetic work, with the fate of both cowboy and horse suspended in time. Two famed performers on view, Sourdough Slim and Annie Oakley, are shown executing signature acts. Other pieces show Rule's humor. As a whole, the exhibition demonstrates his attention to detail and appreciation for craft across a variety of subjects and materials. A quintessential craftsman, Rule remains humble about his incredible talents, saying, "What I do is what I do, but there is always room for improvement."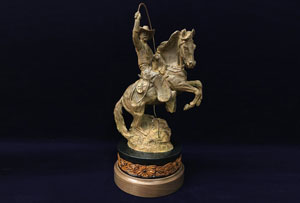 Rule has received many commissions for his leatherwork and sculpture. His work has been featured in numerous exhibitions and has garnered various awards. Rule created a life-size sculpture of Annie Oakley for the outdoor area of the National Cowboy and Western Heritage Museum. His large-scale sculpture, "Downstream Drifters," is installed at Oklahoma City Community College. Public sculptures by Rule include statues of W. P. "Bill" Atkinson and Bob Funk. Most recently, he was commissioned to create the bust of Oklahoma Governor J. Kevin Stitt, now on display in the Governor's reception area.
About the Oklahoma State Capitol Galleries
The Oklahoma Arts Council supports the work of professional Oklahoma artists by showcasing their work in three galleries in the Oklahoma State Capitol. Exhibitions exemplify the outstanding and diverse artistic talent of the people of Oklahoma while enriching lives and promoting public interest and understanding of the arts. Exhibitions in the North, East and Governor's galleries rotate every 60 days and are viewed by thousands of people from around the world who work in and tour the historic building.
Portfolio Submission
Artists interested in having their artwork considered for exhibition in the Oklahoma State Capitol galleries may submit their portfolios using the link below. Submission of a portfolio does not guarantee an exhibition.