Irmgard Geul
The Long Way Home
North Gallery - February 2023 - April 2023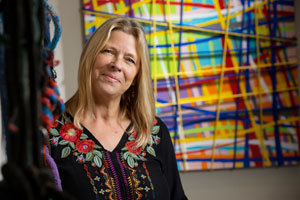 Irmgard Geul was born and raised in Blaricum, The Netherlands, a small village south of Amsterdam. She completed her studies in art at HKU University of the Arts Utrecht and worked across the arts sector in fashion design and visual communication. Twenty years ago, Geul came to Oklahoma to pursue a career working with quarter horses, and, in retirement, found her way back to art. She currently works from her studio located on a ranch in Pauls Valley.
After working in abstract compositions for years, a shift to realism in Geul's practice was inspired by a trip home to The Netherlands. There, a collection of her mother's embroidery thread and fashion design implements brought Geul a flood of memories and provided her a creative vision. Geul grew up sitting next to her mother's sewing machine in her fabric-filled work studio.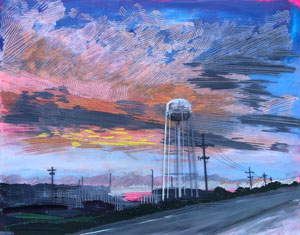 Incorporating fiber into her own artwork—creating the embroidery paintings seen in this exhibition—seemed like a natural next step for the daughter of an haute couture seamstress. Geul utilizes her mother's 50-year-old scissors and needles, drawing inspiration from the connection these tools provide. Using thread and paint, Geul enhances the natural texture of each environment. The bright reflections of paint-striping down an empty highway and the neon pink of a sunrise take on new life with each stitch.
In this exhibition of embroidery paintings featuring rural landscapes of Oklahoma, Geul hopes to inspire viewers to notice what is often overlooked. "A weathered water tower, a ribbon of country road, a cloud-filled sky. They are my personal reflections on the contrasts as well as the commonalities of the two cultures that I live within," Geul explains. The rivers, roads, and trees seen in the landscapes of Geul's artwork remind the viewer to take the scenic route when traveling across our great state. Every stitch the artist makes is a step back home, connecting to a childhood surrounded by the textiles of her mother's studio.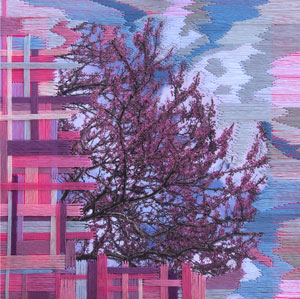 Geul has exhibited artwork in many group and solo exhibitions in galleries nationally and internationally. Her work has been covered by Oklahoma Today, and Art Focus Oklahoma, and was recently featured on Gallery America by Oklahoma Educational Television Authority (OETA).
About the Oklahoma State Capitol Galleries
The Oklahoma Arts Council supports the work of professional Oklahoma artists by showcasing their work in three galleries in the Oklahoma State Capitol. Exhibitions exemplify the outstanding and diverse artistic talent of the people of Oklahoma while enriching lives and promoting public interest and understanding of the arts. Exhibitions in the North, East and Governor's galleries rotate every 60 days and are viewed by thousands of people from around the world who work in and tour the historic building.
Portfolio Submission
Artists interested in having their artwork considered for exhibition in the Oklahoma State Capitol galleries may submit their portfolios using the link below. Submission of a portfolio does not guarantee an exhibition.