Rachel Hayes
Field of Vision
North Gallery - October 10, 2022 - January 13, 2023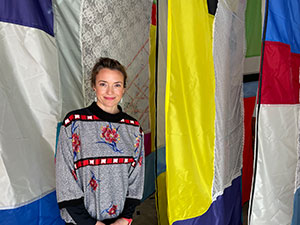 Rachel Hayes was born in Kansas City, Missouri, and lives and works in Tulsa, Oklahoma. She has traveled throughout the United States and Europe installing site-specific installations of her brightly colored large-scale textile-based artwork. Hayes received her Bachelor of Fine Arts in Fiber from the Kansas City Art Institute before going on to receive a Master of Fine Arts in Painting from Virginia Commonwealth University.
Using fabric to create large-scale work, Hayes is interested in inserting color and form into built and natural environments. "Doing this both highlights the beauty of a place and also transforms it so that we may see it in a different way," says Hayes. Of placing her textile art in landscapes, Hayes shares, "the world is a backdrop that is always changing, and my works are not static. Instead, they blow in the wind and let light shine through." Hayes documents her artwork when placed in these unique landscapes, creating contrast between her vibrant textiles and the distinct landscapes. She has captured stunning imagery of works temporarily placed in White Sands National Park of New Mexico, the Flint Hills of Kansas, and the Karl Stirner Arts Trail of Easton, Pennsylvania, among others.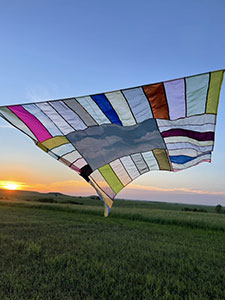 In 2018, Hayes collaborated with the Italian fashion house Missoni, culminating with a solo exhibition during Milan Design Week. For the fashion show itself, Hayes created a custom canopy that floated above the runway, casting shadows of color onto the collection of clothing on display as models walked underneath. In this exhibition of textile-based works, Hayes hopes to bring a sense of place to the viewer.
"I have photographed several beautiful moments in time that I witnessed over the last year in the Oklahoma skies. A few of these moments—sunsets, sunrises, and billowing clouds in a blue sky—were printed on fabrics, allowing space to engage with colors and textures both opaque and translucent."
Hayes goes on to explain, "for this exhibition, I have repurposed some of my prior outdoor installations that once billowed freely in nature and patchworked them with photography of Oklahoma skies to bring a bit of the outdoors inside and offer a window to look out and see the world."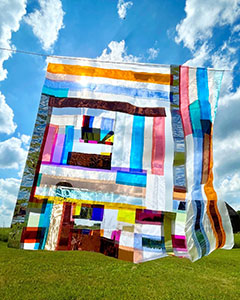 Hayes is a recipient of the Joan Mitchell Award in Painting and Sculpture, Augustus Saint-Gaudens Memorial Fellowship in Sculpture, Virginia Museum of Fine Arts Professional Fellowship in Sculpture, Virginia Commission for the Arts Fellowship in Sculpture, and a Charlotte Street Fund Award. Hayes has attended the Marie Walsh Sharpe Space Program, New York, NY; Sculpture Space Residency, Utica, NY; Art Omi International Artists' Residency, Ghent, NY; Roswell Artist-in-Residence program in Roswell, NM; and the Tulsa Artist Fellowship in Tulsa, OK.
Recently, she exhibited a site-specific installation at NOMAD in Capri, Italy. Her work has been covered by The New Yorker, The New York Times, Architectural Digest, Vogue, The Cut, LA Weekly, Los Angeles Times, Harper's Bazaar, and Artforum.
About the Oklahoma State Capitol Galleries
The Oklahoma Arts Council supports the work of professional Oklahoma artists by showcasing their work in three galleries in the Oklahoma State Capitol. Exhibitions exemplify the outstanding and diverse artistic talent of the people of Oklahoma while enriching lives and promoting public interest and understanding of the arts. Exhibitions in the North, East and Governor's galleries rotate every 60 days and are viewed by thousands of people from around the world who work in and tour the historic building.
Portfolio Submission
Artists interested in having their artwork considered for exhibition in the Oklahoma State Capitol galleries may submit their portfolios using the link below. Submission of a portfolio does not guarantee an exhibition.