Jessie Ghere Feather
Generations
North Gallery - June – September 2023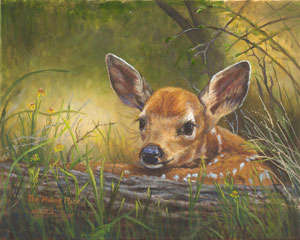 Jessie Ghere Feather is based in Jenks, Oklahoma, where she teaches art classes in her studio. A self-taught artist, Feather's work interprets nature based on her observations and experiences. Feather explored multiple mediums while teaching herself to translate observation into artistic form, allowing her freedom within her craft. Focused mainly on pastels, oils, and scrimshaw, Feather also employs pencil, ink, and sculpture to round out her practice. For Feather, adoration for her surroundings has always been a main inspiration. She explains, "at a very early age I developed a deep attachment to animals, wildlife, and nature." The sixth generation in a long artistic lineage, Feather has passed on the love of art to her children and grandchildren.
The exhibit "Generations" is an ode to family tradition as well as a celebration of animal life. Artworks on view such as "Champion," "Night Vision," and "Bull of the Woods" honor the unique characteristics of horses, owls, and moose, while "Only in America" celebrates the bison, an Oklahoma icon. "The Hiding Place" and "Hidden" evoke tenderness for baby wildlife and appreciation for the efforts of unseen yet loving caregivers.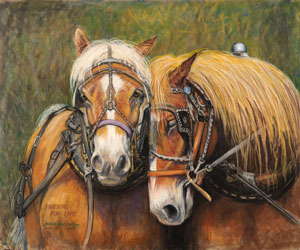 More youngsters appear in "Everybody's Baby," "Singing Lessons," "Breakfast for Two," and "Son of Thunder," shown nurtured and supported by herd, pack, and parents. Feather's deep love for nature is evident throughout, not least in her sensitivity in portraying the deep bonds between her subjects.
Feather's successful career spans five decades and includes special recognition for her talent at the rare art of scrimshaw, for which she was featured on OETA. A medium first employed by whalers in the late 18th century, scrimshaw involves carving bone or ivory for decorative or utilitarian purposes. Her artwork has won numerous awards in categories such as Western, oils, pastel, and best-in-show at arts festivals throughout Oklahoma as well as in Colorado, Kansas, and Missouri. Although a fire in 2000 nearly destroyed Feather's studio and home, the loss of her collected works did not defeat her creativity nor her desire to share the love of art as a mother, grandmother, teacher, and artist.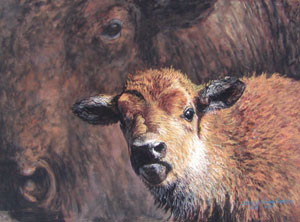 About the Oklahoma State Capitol Galleries
The Oklahoma Arts Council supports the work of professional Oklahoma artists by showcasing their work in three galleries in the Oklahoma State Capitol. Exhibitions exemplify the outstanding and diverse artistic talent of the people of Oklahoma while enriching lives and promoting public interest and understanding of the arts. Exhibitions in the North, East and Governor's galleries rotate every 60 days and are viewed by thousands of people from around the world who work in and tour the historic building.
Portfolio Submission
Artists interested in having their artwork considered for exhibition in the Oklahoma State Capitol galleries may submit their portfolios using the link below. Submission of a portfolio does not guarantee an exhibition.