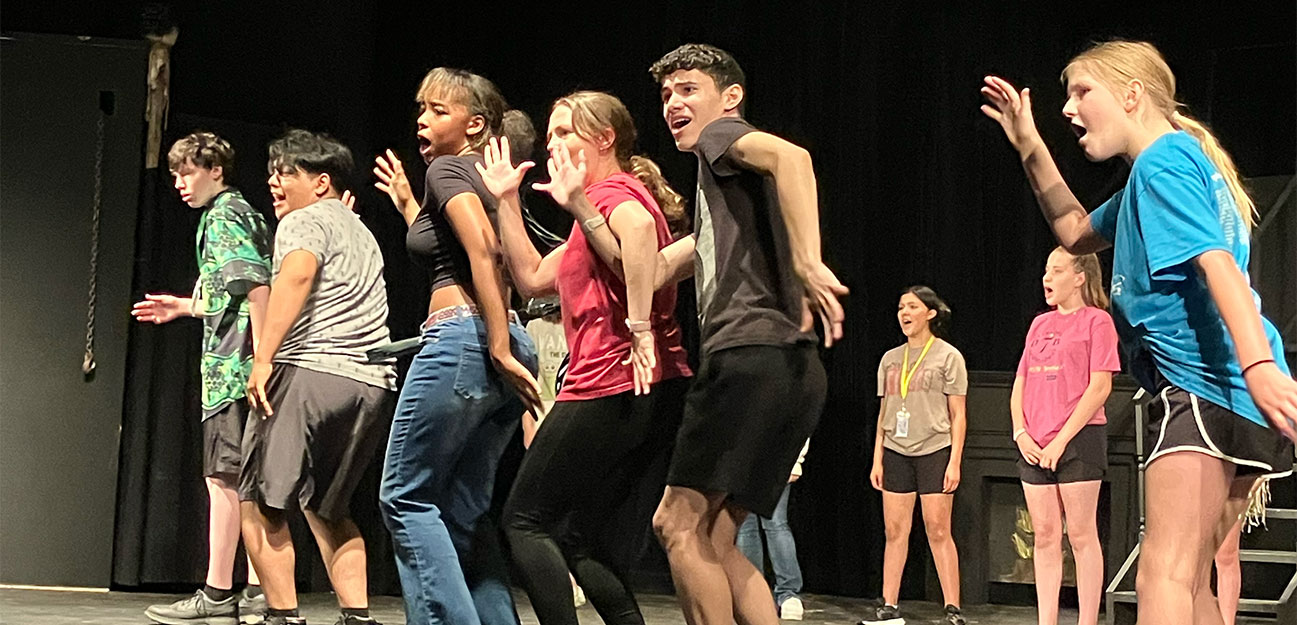 Community Arts Learning Grants
New for Fiscal Year 2024!
The arts are essential to community vitality—boosting state and local economies, enriching quality of life, attracting creative workforce, preserving cultural heritage, and more. To ensure thriving communities across Oklahoma, the Oklahoma Arts Council awards project funding through Community Arts Learning Grants to support workshops, classes, and other community-based arts learning programs serving people of all ages and abilities.
Eligible organizations can apply for the following:

The maximum grant award request is up to $5,000 per project. A 100% (1:1) award match is required. This is a competitive grant program and award amounts are determined using the grant program scoring criteria and agency priorities.

This grant replaces the Small Grant Support program, effective September 1, 2023.


Program Objectives
Support access to hands-on, sequential arts learning opportunities for Oklahomans of all ages and abilities
Engage learners through participatory skill-building experiences led by qualified teaching artists
Create more opportunities for all Oklahomans to meaningfully engage with the arts

Overview
Project Activity Dates
August 1, 2023 - June 30, 2024 (Grant Period FY2024)
Grant Amount
Up to two $5,000 grants per fiscal year. Organizations may apply for two Community Arts Learning Grants, or they may apply for one Community Arts Learning Grant and one Community Arts Experience Grant. Match requirement: 1:1 (100%). Half of the match (50%) may be in-kind support. Matching funds may not be federal funds or other Oklahoma Arts Council funds. Award amounts are determined using the grant program scoring criteria and agency priorities.
Application Deadlines
60 days before your project begins
Who Can Apply?
Oklahoma 501(c)(3) nonprofit organizations, city/county/tribal governments, colleges/universities, and public libraries. For complete eligibility requirements, see the grant program guidelines (linked below).
What Types of Programs Can Be Supported?
Arts instruction, classes, and workshops including workshop series, summer camps, after school programs, arts-focused prevention or intervention programs for youth or adults, and creative aging programs.
If your project is focused on audience-based events such as concerts, exhibits, festivals, or conferences, please see the Community Arts Experience Grant program.
What Expenses Are Allowable?
Funding can be used to reimburse expenses such as artist fees and travel expenses, contracted administration or technical fees, rental expenses, marketing expenses, and consumable supplies. For more examples of allowable expenses and unallowable expenses, see the program guidelines (linked below).
Documents and Links
Grant Program Guidelines
General Grant Terms and Conditions
Grant System Login

How to Apply
Step 1: If your organization has not applied for an Oklahoma Arts Council grant in the past three years, you will need to request access to the grant system. Once you have access, your Grant Contact can log in and apply for a grant. If you have questions about logging in, please contact our grants office at 405-521-2040 or grants@arts.ok.gov.
Step 2: Once your organization has access to the grant system, your Grant Contact can log in and complete an application. Submit the application by the deadlines published in the program guidelines.
Who to Contact for Help
For questions about this grant program, contact:

Erika Wilhite, Arts Learning in Communities Director
(405) 521-6280 (office)
(405) 249-7615 (cell)
erika.wilhite@arts.ok.gov
For questions about grant system access, contact:

Martyna Sandoval, Grants and Programs Associate
(405) 521-2040 (office)
(405) 239-0257 (cell)
martyna.sandoval@arts.ok.gov
For questions about managing your grant award, contact:

Thomas Tran, Grants Director
(405) 967-3290 (cell)
(405) 521-2041 (office)
thomas.tran@arts.ok.gov