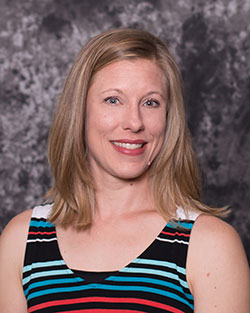 Contact Information:
Amy Nevius

Phone:
(405) 206-3293

Email:
Discipline:
Dance & Creative Movement
Participants:
Early Childhood, Elementary, Middle School, Hight School, Adults, Educators, Older Adults, Youth with Disabilities, Adults with Disabilities, At-risk Youth
Settings:
Schools: Pre-k, Elementary, Middle School, High School, Alternative Education
Community Sites: Parks & Recreation Centers, Arts Centers, Childcare Centers, Libraries, Senior Centers, Health Care Facilities
Availability:
Statewide, Year-round
Bio:
Amy Nevius is a versatile and innovative teacher, dancer, and choreographer. Since 2001, she has brought arts education in the form of dance and creative movement to a wide range of populations in Oklahoma through artist-in-residence programs, master classes, workshops, arts camps, staff development sessions, seminars, adjudications, and guest choreographer positions. Believing that individuals learn best through the application of the arts in various formats, Nevius finds great joy in working collaboratively with artists of other mediums to bring multi-faceted arts curriculum to participants of all ages and abilities. In addition to her work as a teaching artist, she currently teaches dance technique as an adjunct faculty member in the department of visual and performing arts at St. Gregory's University and in the theatre department at Rose State College. Nevius holds a Bachelor of Arts in dance from the University of Central Oklahoma where she performed on scholarship with the Kaleidoscope Dancers Company during her four years there. She is a recipient of the Oklahoma State Superintendent's Award for Arts Excellence, and her performance and choreography has been a part of numerous concerts, festivals, theatre productions and events throughout Oklahoma, Texas, Arkansas, New Mexico, and California. As a founding member of Oklahoma's own Perpetual Motion Dance, Nevius enjoys expressing her love of dance by performing challenging choreography in modern dance and Perpetual Motion's latest explorations in aerial dance.
Learning Goals:

Through guided creative movement activities, participants will learn dance fundamentals and explore the elements of body, energy, space, and time to create and perform original dance compositions.
Participants will:
Recognize dance as an art form and use movement as a tool to express an idea or feeling.
Understand that dance can improve one's strength, flexibility, balance, and coordination.
Demonstrate respect for movements created and/or performed by their peers.
Gain a working knowledge of terminology specific to basic elements of dance.
Learn to identify and execute locomotor and non-locomotor movements.
Learn to incorporate the use of different levels (low, medium, and high) for movement.
Experience and utilize different dynamic qualities (heavy/light, quick/slow, direct/indirect) of movement.