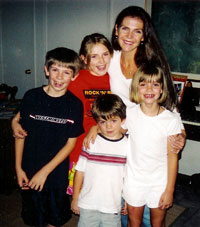 Contact Information:
Beth Robinson

Email:
Discipline:
Creative Writing: academic writing, non-fiction and biography
Participants:
Early Childhood, Elementary, Middle School, Hight School, Adults, Educators, Older Adults, Youth with Disabilities, Adults with Disabilities, At-risk Youth
Settings:
Schools: Elementary, Middle School, High School, Alternative Education
Community Sites: Parks & Recreation Centers, Arts Centers, Libraries, Senior Centers, Health Care Facilities
Availability:
Statewide, Year-round
Bio:
Beth Robinson has been teaching writing across the state since 1998. As a professor, teacher, and facilitator, she has encouraged the creative work of all age groups, with special experience writing with older adults and inmates. A working, published poet and author, Robinson has been a finalist for the Oklahoma Book Award while operating a successful editing business. She holds a Bachelor of Arts in journalism and professional writing and an Master of Arts in English and creative writing.
Learning Goals:

Identifying and writing persuasive, informative, descriptive and narrative forms with younger writers.
Listening to, appreciating, and writing several forms of poetry.
Mining and recreating details of life stories and experiences.
Learning and practicing several brainstorming and creative strategies.
Mastering, providing, and receiving constructive feedback with other writers.
Practicing and improving revision and editing skills.