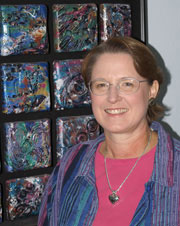 Contact Information:
Cheryl Swanson

Phone:
(405) 974-0872
Email:
Discipline:
Visual Arts, Drawing, Painting, Mixed Media, Sculpture
Participants:
Elementary, Middle School, Hight School, Adults, Older Adults, At-risk Youth
Settings:
Schools: Elementary, Middle School, Alternative Education
Community Sites: Parks & Recreation Centers, Arts Centers, Libraries, Senior Centers
Availability:
Northwest Oklahoma, Year-round
Bio:
Cheryl Swanson's main passion is helping students become lifelong lovers of art. She offers a wide range of visual art instruction depending on the resources available at the individual site. Swanson works with the site coordinator to create a program that will meet the needs and budget required.

Swanson graduated with a Bachelor of Fine Arts from Phillips University. She has worked in the art field for over 30 years.
Learning Goals:

Students will develop a working understanding of basic art terms including the principles and elements of design.
Students will produce a tangible work of art through drawing, painting, pottery, weaving, found object, relief sculpture, and/or murals.
Students will work on problem solving skills.
Students will reflect on how to celebrate differences through art, and they will discover how great things can be accomplished by working together.