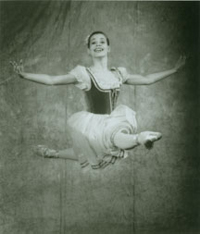 Contact Information:
Desiree La Vign-Roan
9909 Rutland Terrace
Yukon, OK 73099
Phone:
(405) 641-8195
(405) 324-7600

Email:
Website:
Discipline:
Dance Art, Choreography
Participants:
Early Childhood, Childhood and Adolescents
Availability:
Oklahoma City metro, year round
Bio:
Desiree LaVigne-Roan is an accomplished choreographer and dancer who has served as a faculty member with the Ft. Worth City Ballet, Ballet Oklahoma and the Southwest Ballet Company. Her enriching residencies engage children in movement with an emphasis on the fundamentals of classical and contemporary dance. Basic elements of movement and dance such as locomotive and musical rhythm skills are a must in the beginning of her dance residency.
Learning Goals:

Basic understanding of fundamental dance technique
Embody rhythmical skills through non-locomotive and locomotive movement
Learn character interpretation through creative movement
Create simple movement that would express a story, theme or poem
Build costumes, props or stage d?cor to enhance a dance production