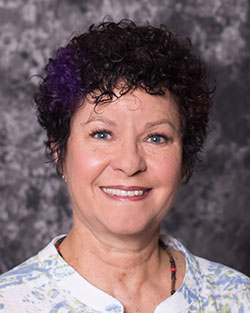 Contact Information:
Doobie Potter

Phone:
(405) 524-0955 (evening)
(405) 833-2126 (day)

Email:
Discipline:
Theatre: Mime, play writing
Participants:
Early Childhood, Elementary, Middle School, Hight School, Adults, Educators, Older Adults, Youth with Disabilities, Adults with Disabilities, At-risk Youth
Settings:
Schools: Pre-k, Elementary, Middle School, High School, Alternative Education
Community Sites: Arts Centers, Childcare Centers, Libraries, Senior Centers
Availability:
Statewide, Year-round
Bio:
Doobie Potter, a delightful dramatist and mime, studied theatre at C.S. Mott College and the University of Michigan. She also had extensive training at the Valley Studio of Mime where she was a member of the Wisconsin Mime Company. During her residencies, she stresses improvisation and alternative thinking in theatre, techniques of mime and creative dramatics. She can lead students through the whole production process from start to finish or help find different ways to stimulate a creative writing project, dramatize a book, expand non-verbal skills or write a play through improvisation and cooperative learning techniques.
Learning Goals:

Learn basic theatre and mime techniques and processes
Understand character roles and responses
Enhance effective and expressive communication skills
Explore dynamics and rhythm changes
Increase teamwork and collaboration skills through thea