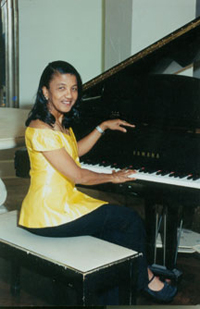 Contact Information:
Ellen Sheffield-Charles
3104 NE 13th St
Oklahoma City, OK 73117
Phone:
(405) 417-8878
Email:
Discipline:
Music - Piano
Participants:
Childhood; Adolescent and Adult
Availability:
OKC and Tulsa Metros; weekdays and summers
Bio:
Ellen Sheffield-Charles is a gifted musician with family roots in gospel and jazz music. She attended Langston University and the University of Oklahoma and has a Bachelor in Music Education with an emphasis in instrumental music and piano. She currently serves as a pianist for Ballet Oklahoma. Her residencies provide a foundation of knowledge and experience about the great music of the world and instill in students a love and appreciation of the art form.
Learning Goals:

Learn basic classical and jazz history
Explore science and acoustics
Combine music and math
Combine poetry and music