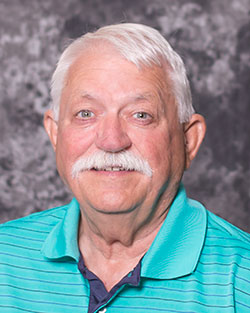 Contact Information:
Gerald Patrick Riley
8101 Bridgeport Lane
Bethany, OK 73008
Phone:
(405) 831-3905

Email:
Discipline:
Visual Art
Participants:
Early Childhood, Elementary, Middle School, Hight School, Adults, Educators, Older Adults, Youth with Disabilities, Adults with Disabilities, At-risk Youth
Settings:
Schools: Pre-k, Elementary, Middle School, High School, Alternative Education
Community Sites: Parks & Recreation Centers, Arts Centers, Childcare Centers, Libraries, Senior Centers, Health Care Facilities
Availability:
Statewide, Year-round
Bio:
G. Patrick Riley is a nationally recognized artist and art educator. He has maintained a strong and expressive visual arts career and artist/teacher career and has taught students of all grade levels. He holds an Oklahoma teaching certificate in visual arts with the State of Oklahoma and has served as an arts educator for over 40 years. Many of his former students are successful as artists, teachers, and professionals in many fields of study. He is an active artist/teacher in the schools and has completed residences focused on many disciplines including pottery, drawing, printmaking, painting, sculpture, leather masks, and totems.
Riley's specialty arts disciplines are mask making and sculpture. In 2012, he completed a 28-foot-tall stainless steel mask sculpture of an eagle for the Oklahoma Judicial Center in Oklahoma City. In 2010, he designed a special leather mask that was gifted by the Ford Center of Oklahoma City to celebrity performer Lady GaGa. During his art career, he has exhibited masks in many galleries throughout the United States including New York City and Washington D. C.

He began teaching children visual art in 1964 in Oklahoma City and taught as a public school art teacher until 1990. After 1990, he worked as a university professor and fine arts administrator. In 1997, the Oklahoma Arts Council honored him with an Arts in Education Award at the Governors Arts Awards ceremony.

Through the Oklahoma Arts Council's residency program and many summer programs offered by rural communities in Oklahoma, Riley has traveled throughout the state, teaching students about the visual arts. Enthusiasm for the visual arts and passion for sharing the arts with children are Riley's passions.

Riley was raised in rural Oklahoma. He attended Ada High School and East Central University. He earned his bachelor's and master's degrees in art education from the University of Oklahoma.
Learning Goals:

Students will learn a basic knowledge of the elements of art and the basic principles of design through creative teaching methods developed by the artist/teacher.
Students will learn the about the chosen art discipline of focus. Through demonstration and guidance, the teaching artist will assist students in the creation of a work of art. For example, the teaching artist will demonstrate to students how to make a leather mask and guide them through the design and creation of their own leather mask.
Students will learn through working with the teaching artist in a hands-on learning style, making an original work of art.
Students will learn an appreciation of visual art and the role of visual art in our society by working with the teaching artist
Students will exhibit their creative works of art in an arranged student art exhibit with the help of the teaching artist. They will gain self-esteem through showing their art to their peers.