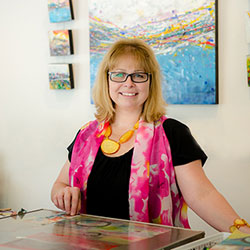 Contact Information:
Gayle L. Curry
Phone:
(405) 205-8990
Email:
Email:
Discipline:
Visual Art
Participants:
Middle School, Hight School, Adults, Educators, Older Adults, Youth with Disabilities, Adults with Disabilities, At-risk Youth
Settings:
Schools: Middle School, High School, Alternative Education
Community Sites: Parks & Recreation Centers, Arts Centers, Libraries, Senior Centers, Health Care Facilities
Availability:
Statewide, Year-round
Bio:
Gayle Curry is one of Oklahoma's celebrated fine artists and advocate for the arts. Her fine art was commissioned to display at Samis Education Center in the OU Complex and has been shown at the State Capitol and was accepted into the 2013 Leadership Arts Program. Gayle also owns and operates the "Paseo School of Art", located near the historic Paseo Arts District where she teaches encaustic painting and also provides a variety of workshops by other teaching artists. She is the 2015-2016 Skirvin-Hilton Artist in Residence. Encaustic Monotypes combines the ancient painting medium of encaustic with the popular monotype process. Encaustic paints are used to draw upon a heated metal plate. As the wax melts, it can be manipulated with brushes and other tools. Absorbent paper is laid on the plate and the image is transferred to the paper without a press. Variations in type and absorbency of paper, work surface temperature, pigment load, and the translucency of the wax make the encaustic monotype an excellent tool for the creative process. Experimental and liberating the encaustic monotype may be used with a range of imagery and styles while tending toward abstraction. Students will learn about history, safety issues, paints, papers, stencils and tools connected to the mono-print process. Learn about the basics and variables of working with this medium on paper.
Learning Goals:

Students will learn about the components processes of music composition.
Students will explore elements of music and songwriting including: creative inspiration, melody, rhythm, harmonic progression, lyric wilting, and form/arrangement.
Students will use the content covered to compose their own songs.
This program helps to reinforce: math through rhythm, language arts through lyric writing, and social studies and science through learned observation and critical thinking.