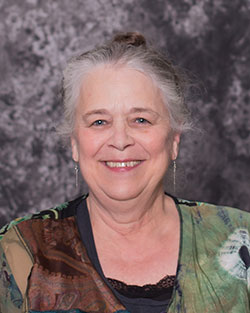 Contact Information:
Glenna McBride

Phone:
(918) 617-1689

Email:
Website:
Discipline:
Visual art
Participants:
Early Childhood, Elementary, Middle School, Hight School, Adults, Educators, Older Adults, Youth with Disabilities, Adults with Disabilities, At-risk Youth
Settings:
Schools: Pre-k, Elementary, Middle School, High School, Alternative Education
Community Sites: Parks & Recreation Centers, Arts Centers, Childcare Centers, Libraries, Senior Centers, Health Care Facilities
Availability:
Statewide; year-round
Bio:
Glenna McBride uses artistic activities such as printmaking, papermaking, and book arts to jump start her residencies. Traditional tools and techniques used by artists working with these mediums are introduced to participants. McBride's residency activities are reinvented through basic curriculum subjects chosen by the site. Sessions are planned during developmental meetings and integrated with site objectives. Teachers and students begin to strengthen and expand their ideas of what art can be during McBride's residencies. Ordinary books and hand-made paper are given a new and unique meaning. It is not necessary to have any experience in the arts, but participants who feel they are artists will enhance skills. Programs can last from an hour to several weeks. Simple printing workshops have been developed into installation pieces. Many non-traditional projects created by McBride through residency experiences are available to use as a resource. Residencies can serve as intensive teacher development in areas regular teachers feel uncomfortable advancing. Professional development training for teachers in arts inclusion are advanced through tried and true experiences.
Creative lectures and engaging demonstrations are available in printing, papermaking, and book arts. Themes include, but are not limited to, "Tremendous Transformations in Time" (about printmaking), "The Hornet and The Paper," and "Stir Up a Book."
McBride is available to conduct teacher workshops and small group adult or children classes in non-traditional settings such as in a houseboat, large hallways, outside, performance stages, or in a pop up tent.

McBride earned a Bachelor of Fine Art from Arkansas State University in Jonesboro with an emphasis in printmaking and a Bachelor of Science in Education from University of Arkansas at Little Rock. She maintains Oklahoma certification to teach art in accredited K-12 schools and recently taught as a high school art teacher for eight years. Other affiliations include being a Teaching Artist with the Arkansas Arts Council. McBride maintains two working art studios and galleries in Eufaula Oklahoma: Eufaula Main Street Studio and River Oaks Studio.
Learning Goals:

Students will learn to:
Create original artwork through drawing, painting, printmaking, papermaking and/or book arts by observing, selecting, and utilizing a variety of ideas and subject matter

Identify and communicate using a variety of visual art terms

Appreciate and utilize visual art to make interdisciplinary connections and informed aesthetic decisions

Explore visual art history and culture
Teachers will learn to:
Support curriculum through arts inclusion