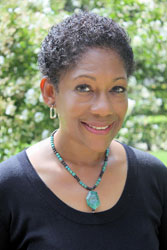 Contact Information:
Gwendolyn Hooks

Phone:
(405) 823-5412

Email:
Website:
Discipline:
Creative Writing
Participants:
Early Childhood, Elementary, Middle School, Adults, Educators, Older Adults, Youth with Disabilities, Adults with Disabilities, At-risk Youth
Settings:
Schools: Pre-k, Elementary, Middle School, Alternative Education
Community Sites: Arts Centers, Childcare Centers, Libraries, Senior Centers, Health Care Facilities
Availability:
Statewide, year-round
Bio:
Using her writing experience, Gwendolyn Hooks' residencies reflect her deep commitment to the writing craft. Hooks' latest book, Tiny Stitches – The Life of Medical Pioneer Vivien Thomas is a picture biography illustrated by the award winning Colin Bootman. The book has received great reviews including a starred review from Booklist Reviews. She uses it as a basis for Cooking Up Poetry, an arts integration residency with a science, technology, engineering, arts, and mathematics (STEAM) emphasis. Her second residency encourages young writers to recall turning points and memories, and combine them with dreams of the future to produce stunning short stories. Hooks will also work with a facility to create programs specifically for the clientele.
Learning Goals:

Throughout the residency, students will become familiar with the same writing process used by professional authors: prewriting, drafting, revising, editing, and publishing.
Prewriting – gathering ideas

Drafting – getting words on paper

Revising – making better choices

Editing – writing for publication

Publication – possibilities include bulletins boards, school website, Hooks' website, anthology, and podcast.