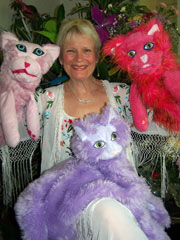 Contact Information:
Joann McMillan
Rt 5, Box 210
Eufaula, OK 74432
Phone:
(918) 707-3000

Email:
Website:
Discipline:
Puppetry and Creative Dramatics
Participants:
Early Childhood, Elementary, Middle School, Hight School, Adults, Educators, Older Adults, Youth with Disabilities, Adults with Disabilities
Settings:
Schools: Pre-k, Elementary, Middle School, High School, Alternative Education
Community Sites: Parks & Recreation Centers, Arts Centers, Childcare Centers, Libraries, Senior Centers, Health Care Facilities
Availability:
Statewide; year-round
Bio:
Joann McMillan is a veteran puppeteer and puppet maker with experience in every age group and venue. Credits include: The Tulsa Symphony, The Truman Library, The National Cowboy Hall of Fame, The Nelson Atkins Museum of Art, Oklahoma Historical Society, The Museum of Pioneer History, The National Frontier Trails Museum, countless libraries, preschools, elementary schools, several high schools and middle schools, nursing homes, festivals, parties, groundbreakings, and other public events. McMillan holds a Bachelor of Arts in drama and secondary education from the University of Delaware, and she has completed numerous workshops on puppet making.


McMillan's classes may focus on the art of making puppets, and workshops can explore the history and typology of puppets. Classes may also include hands-on use of the artist's large collection in preparation for a show. Performances may be traditional puppet theater or a combination of puppetry, storytelling, and/or multimedia to include projections of photos or art created by students.
Learning Goals:

Vocabulary for the use of color, design, and materials used in making puppets as well as for the performance aspects of creating a show: speech, movement, non-verbal communication, body language.
Knowledge of the worldwide history of the art of puppetry and types of puppets. Indonesian rod puppets, Japanese Bunraku, Chinese hand puppets, Italian marionettes, Native American mask and African body painting as predecessors to puppets, shadow puppets.
Conceptualizing and creating a piece of art. Processes include talking, sketching, choosing materials, selecting colors and mixing them, assembling materials, and finding the focal point or center of interest to maximize impact.
Performance skills including entrance and exit timing, movement to enhance story line, creation of a skit with one main event, dramatic speech and performance etiquette.