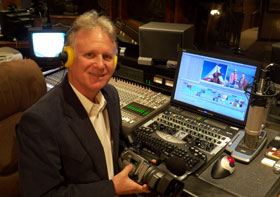 Contact Information:
Ken Sarkey
1315 Locust Lane
Edmond, OK 73013
Phone:
(405) 848-8400
Email:
Website:
Discipline:
Media Arts: Audio, Video Systems Operation & Recording, Music & Movie Production, Graphic Arts
Participants:
Adolescents, Adults, Youth at Risk & Older Adults
Settings:
Schools: Elementary, Middle, High, Alternative Ed.
Community Sites: Libraries, Art Centers, Senior Centers and Parks & Recreation Centers
Availability:
Statewide, Year-round
Bio:
Ken Sarkey is a native Oklahoman with a BME degree from the University of Central Oklahoma, and is a graduate of the Recording Institute of America and Delcom Video University. In 1977 he founded the Cornerstone Recording Company in Oklahoma City, where he developed his skills as engineer/producer, arranger/composer, studio musician and vocalist on multiple recordings and 3 gold records. Sarkey has performed/recorded with artists and record labels such as Sony, Epic, Arista, Motown, Star Search, Reader's Digest, Integrity, Word, and Warner-Alliance Records, B. J. Thomas, Toby Keith, Mason Williams, Twila Paris, Don Moen, Dennis Jernigan, Kelly Willard, Vicki Winans, Charlie Hall, and 150 schools, universities & churches, numerous radio & TV commercials, movie scores, Broadway musicals and music videos. Sarkey has also served as faculty member at OU, OCU, SNU, and at Oklahoma Christian Schools in Edmond, OK, where he initiated & developed the 5th-12th grade Band & Choir programs.
Ken's exciting residencies can bring together your drama, band, choir, and tech crew departments to spotlight and preserve their performances, or do a "Video Yearbook Keepsake" highlighting student life and activities. Or...have the history class conduct a video interview of a local Senior citizen's life story.
Learning Goals:

"Through learning how to serve other Artists by creatively showcasing their message to the public via today's available technology and delivery systems, my students can discover and develop their own skills of communication; analytical, logical, and creative thinking; problem solving, listening and visual interpretation; cultural history, storytelling & script writing; and "people" skills...working both independently and as a team. As they experience the satisfaction of a finished product and presentation, future career and educational opportunities become clearer."
Suggested Residency Programming Choices:
The Art & Science of Video Movie-Making:
Personal Video Biographies, Documentaries, Music Videos, or Short Stories
"Live" Sound System Operating Techniques:
Delivering Quality Sound (to the audience and the artist) While Protecting the Listener's Hearing.
"Live" Sound & Video Recording Techniques:
Preserving and Enhancing the Performance