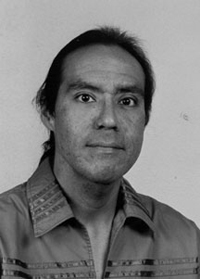 Contact Information:
Kevin Connywerdy
1200 W Brooks
Norman, OK 73069
Phone:
(405) 360-2532

Email:
Discipline:
Traditional Arts
Participants:
Childhood; Adolescents, Adults and Intergenerational
Language Fluency: Kiowa and Comanche
Settings:
Elementary, Middle School, High School, Alternative Education, Parks & Recreation Centers, Arts Centers, Libraries
Availability:
Statewide, year-round
Bio:
Kevin Conneywerdy is a Native American artist, traditional craftsman and dancer of the Kiowa and Comanche tribes. He has studied fine arts at Bacone College in Muskogee and at the University of Oklahoma. Kevin is most renowned for his traditional Indian feather-work and beading. His goal for his exciting residencies includes educating participants in all aspects of Native American culture and teaches students the authentic way to make Indian cultural items.
Learning Goals:

Experience Native American dance
Create fine arts & crafts
Learn about authentic Indian cultural items
Understand cultural heritage