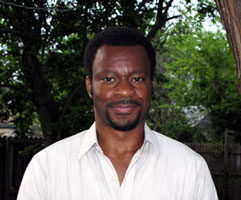 Contact Information:
Nathan Lee
3016 N. Robinson Ave., #6
Oklahoma City, OK 73103
Phone:
(405) 866-0870

Email:
Website:
www.visualrealmsstudios.com
www.inclusioninart.org
Discipline:
Visual Arts: Mixed Media & Sculpture
Participants:
Adolescents, Adults and Youth at Risk
Settings:
Schools: Middle, High and Alternative Ed
Community Sites: Art Centers, Libraries, Parks & Recreation Centers
Availability:
Weekdays, year-round, Okla. City Metro
Bio:
I am a self-taught visual artist who started in music and then transitioned into the visual arts. I have exhibited throughout many state galleries and in national facilities. I worked seven years as an arts/life skill facilitator through Youth Cornerstone. My work experience with teen population ranges in ages 13-18. As an arts facilitator, I have worked in school districts, libraries, alternative sites, recreation centers and DHS sites. I have also conducted numerous workshops and classes through the Arts Council of Oklahoma City.
Learning Goals:

Teach a specific art discipline
Teach Critical Thinking through artistic interaction
Expose students to their own creative possibilities
Teach the students different sculpting mediums
Teach and educate students about the process of making art through hands on classes