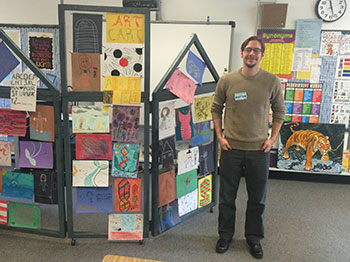 Contact Information:
Lillard42@gmail.com
405-831-8980
Discipline:
Sculpture, Ceramics, Mixed-Media Sculpture
Participants:
Elementary students, adolescents, youth at risk, adult, intergenerational, seniors
Settings:
Schools: elementary, middle schools, high schools, alternative education schools
Community Sites: parks & recreation centers, arts centers, libraries, senior centers, health care facilities
Availability:
Central Oklahoma, Year-round
Bio:
Nick Lillard began making figurative artwork from limestone and clay for the University of Oklahoma during his time there as a student. Four of his portraits still reside on OU's campus. Lillard also acted as an organizer and lead artist of an art space in Norman called the Form and Function Lab. In addition to showcasing artwork by many up-and-coming artists, the gallery/studio was open for public participation by children and adults during monthly art walk events.
Lillard offers four separate courses. The course specifically for elementary students is called The Art Cart. In this class, children will receive instruction on refining their aesthetics and art vocabulary, and they will learn what to do once confronted with the opportunity to show work in a group setting. The Art Cart is an easy way for students to be exposed to the collaborative process required for showing art.
Three additional courses offered by Lillard include ceramics, mixed media, and metal fabrication. Ceramics can be taught to students of any age. Students will be able to walk away with their own fired clay pieces and a better sense of how to build three dimensional objects. In addition, they will be able to better explain visual elements within their artwork.
The mixed media and metal fabrication classes are open to older students (middle school and high school) as they require specific safety measures. In the mixed media class, students will learn how to make objects from recycled materials that are durable enough to withstand the outdoor elements. This course is meant for high school students or older.
Metal fabrication requires mature, focused students who are willing to follow safety rules and are considerate to each other's workspace. Ultimately, learning how to use a welder and plasma cutter properly are the main goals. Students should also come away from the class with sturdy metal sculpture they made.
Learning Goals:

Art Cart Learning Goals:
The elements of art, such as values, textures, shapes, forms and lines should be understood, along with spatial considerations. How an image is balanced or not by way of contour quality, its perspective, the emphasis of different attributes and what contrasts each other are also discussed.
Ceramics Learning Goals:
The first element of study is texture, then line quality, and value. If there are multiple classes, the other three elements of art will be the focus until an eventual discussion of design properties. Describing the visual elements of each object will assist the students in learning the vocabulary of art. Advanced classes will go over the history of certain ceramic processes.
Mixed Media Learning Goals:
Coroplast, corflute, PVC, high and low density polyethylene based plastics, polypropylene, plexiglass and other materials are identified and understood in this class. There is an emphasis on safely handling these materials. All the classic discussions about principles of design and elements of art are present in this class. Properties such as rhythm and repetition receive special focus.
Metal Fabrication Learning Goals:
How to weld all thicknesses of steel, bend both sheet metal and rebar, understand how to use a drill press, and have an ability to use an angle grinder are top priorities concerning metal work.
The aesthetic considerations for sculpture are also integrated into the course. Students will be expected to discuss each other's work using proper art vocabulary. The concept of dynamic design forms will be considered along with other types of content analysis.