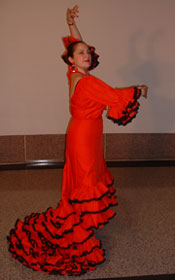 Contact Information:
Pandora Tadefa-Everett
P. O. Box 668
Norman, OK 73070
Phone:
(405) 326-2848
(405) 447-4034

Email:
flamencodance1@yahoo.com
pandora@spanishdancers.org
Discipline:
Dance: Classical and regional Spanish dances, Flamenco, Mexican Folkloric
Participants:
Childhood; Adolescents, Adults and Older Adults
Language Fluency: Spanish (Castillian and all dialects), European Portuguese, some French and Farsi
Settings:
Schools: All schools, colleges and universities
Community Sites: Art Centers, libraries, Senior Centers, Parks & Recreation Centers
Availability:
Statewide, Year-round
Bio:
Pandora Tadefa-Everett is a US Citizen born abroad in England. A native of Galicia, Spain, her 43 years of classical training in dance and teaching spans the globe throughout Europe, the United States, and South America. She has lived and traveled extensively throughout Europe and in the United States. Her professional dance education includes the study of all the different schools of Spanish dance with professors of the National Ballet of Spain and the National Ballet Folklorico of Mexico and her performing group(s) Ballet Flamenco Espanol and Los Ninos De Espana y Mexico have won many national and state awards. Associations include the National Celtic Association and the Conservatory for Spanish and Galician Arts ? Club Galicia of Oklahoma. Educational background includes a Masters Degree in Leadership and Management form Oklahoma City University, a Bachelors Degree in Education and teaching with a minor in Social Sciences from the University of Central Oklahoma, and two Associate degrees in Education and Military Leadership from Rose State College and Community College of the Air Force. A highly decorated US Air Force Veteran of 26 years, she has served during the Gulf War, and Bosnian Refueling Mission in the European Theatre. Pandora is the recipient of the Commanders Award, Good Conduct Medal and the Air Force Achievement Medal. In 2007 she retired from the state where she held the position of Educational Curriculum Developer/Instructor, and Social Services Supervisor and was honored with an appointment to the Governors Advisory Committee for Teacher Recruitment. She now continues her volunteerism with children and young adults, sharing her lifelong hobby of dance and performance in dance and education with all those who seek to experience true Spanish culture taught by a native of Europe.
Learning Goals:

Learn about dance and its historical connections to US History
Experience costuming visuals and cultural explanations of the art
Discuss cultural heritage, migration and importance of art in our world today
Practice directional mapping of listening skills
Enjoy working in a team and building esprit de corps