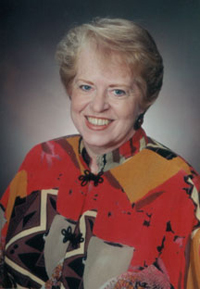 Contact Information:
Patricia Webb

Phone:
(405) 286-0091 (evening)
(405) 209-7117 (day)
Email:
Discipline:
Creative Writing
Participants:
Childhood, Adolescents, Adults, older adults and youth at risk
Settings:
Schools: elementary, middle, high, alternative ed
Community Sites: art centers, libraries, senior centers
Availability:
Okla. City and central Oklahoma; summers, weekends and evenings
Bio:
Patricia Webb began writing poetry in 1979 as a way of dealing with the culture shock of being in an aboriginal village in the outback of Australia. A life-long teacher, she has been an Artist-in-Residence in Oklahoma since 1991. In 1997 when Webb turned 50, she entered into a period of silence to re-design her life. She is co-founder of The Silence Foundation, devoted to research, writing, and sponsoring workshops on the benefits of silence in contemporary society. Webb's poetry has been published in the United States and Australia. She has worked in hundreds of Oklahoma elementary, middle and high schools, as well as senior centers teaching students how to create original poetry, stories and small handmade books. Webb's unusual approach includes sharing circles, reflective method, and oral presentation.
Learning Goals:

Webb teaches respect for diversity by encouraging children, teens, and adults to go within and mine the rich resources of their personal history, dreams, and aspirations for the future. She believes in each person's right to discover their own natural genius in art and words. Her unusual methods release insights in varied forms, such as poetry, stories, and visual arts. Arts learning goals of her programs include:
Learning the essential tools and frameworks for writing original poetry.
Learning the conventions common to such forms as stories and fairy tales
Learning how to use figurative and symbolic language
Learning the writing process: early drafts, revision, and editing
Learning how to writing and visual art to make visually interesting products