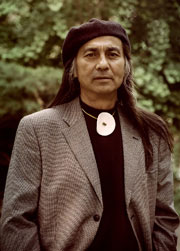 Contact Information:
Richard Ray Whitman

Phone:
(405) 524-4506
Email:
Discipline:
Visual Arts
Participants:
Adolescents, Youth at Risk, Adults, Older Adults
Language Fluency: Native American: Yuchi
Settings:
Schools: Middle, High and Alternative Ed
Community Sites: Art Centers, Libraries, Senior Centers, Parks & Recreation Centers
Availability:
Year-round, OKC Metro, Tulsa Metro and Statewide
Bio:
Richard Ray Whitman is an internationally acclaimed artist and photographer. His work has been exhibited at museums and galleries nationally, internationally and locally - with highlights including the Artrain nationwide tour, and a solo exhibit at the Smithsonian's National Museum of the American Indian Heye Gallery in NY. His work has been published in magazines including Native Peoples and American Indian Art, and featured in books including Aperture's Strong Hearts.
As an actor, he has appeared in movies including Lakota Woman, American Indian Graffiti, and the award-winning Oklahoma production Four Sheets to the Wind.
Whitman previously participated in the Artist in Residence program from the late 1980s through the 90s, completing residencies in numerous public and alternative schools statewide. Prior to his work with the Oklahoma Arts Council, Whitman taught art through the Indian Youth Council and the youth at risk program at the Native American Center in Oklahoma City. Whitman has also worked with youthful offenders, teaching art as rehabilitative therapy as a visiting artist in several state corrections institutions.

As a Yuchi tribal member, he is enrolled in the Muscogee/Creek Nation. He grew up in Gypsy, OK and graduated from the Institute of American Indian Arts in Santa Fe, NM in 1970.
Learning Goals:

Refine and enhance observational skills (looking and seeing?)
Experiment with the basic concepts of color and design, including balance, pattern, line, shape, form, texture, movement, contrast and space
Learn specific techniques for using a variety of art media, including painting, collage, photography and three dimensional art forms
Build awareness of individual creativity and art as a personal narrative
Develop and expand critical thinking and imagination through the art-making process
Create art projects that stimulate discussion of subjects including history, environment, culture and economics