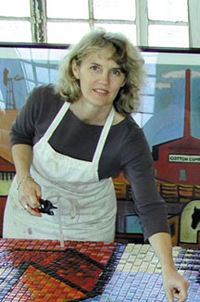 Contact Information:
Susan Morrison
1921 N.W. 17th
Oklahoma City, OK 73106
Phone:
(405) 232.5083 (day)
(405) 802-1183 (evening)

Email:
Website:
http://smorrison652.wixsite.com/susanmorrison
Discipline:
Visual art ? Painting, drawing, collage
Participants:
Elementary, Middle School, High School, Adults
Settings:
Schools: Elementary, Middle Schools, High Schools, Alternative Education
Community Sites: Parks & Recreation Centers, Art centers, Libraries
Availability:
Central Oklahoma, Tulsa Area, SW Oklahoma
Year-round
Bio:
Susan Morrison, creator of a series of high profile History of Bricktown murals at Bricktown Ballpark in Oklahoma City, holds a fine arts diploma from the School of the Museum of Fine Arts in Boston and a Bachelor of Fine Arts from Tufts University where she received both graduate and alumni traveling fellowships to study art abroad. Morrison's years of independent travel throughout western Europe greatly enriched her vocabulary and love for art history and contemporary American and European art.

For the past 35 years, Morrison has been working as an artist, exhibiting nationally in museums, universities, and galleries across the country. She has set up working studios in Boston, Brooklyn, and in Oklahoma City where she currently continues to produce artwork for exhibitions and public art projects. Among recent projects are an expansive 88-foot mural that runs the length of the new performing arts center at Special Care, Inc. in northwest Oklahoma City.

Classes with Morrison are centered on creative freedom, self-expression, and direct observation. Her approach to working from life might include trompe-l'oeil and still life painting as well as self-portraiture. Abstraction is highly encouraged through a series of observational drawing exercises that gives students insight to the process of perceiving altered space and creating depth illusion primarily through color values. Perspective is explored through architectural and contour drawing.
Learning Goals:

Students will learn to:
Explore formal elements of painting and drawing through line, color, and form.

Build a visual vocabulary by working with various materials, textures, and mediums (collage).

Learn perspective and contour drawing through direct observation (architectural, tromp l'oeil and self-portrait).

Learn to be expressive and creative within formal guidelines (abstraction and figuration).

Exercise problem solving and decision making through art.

Develop a lasting enthusiasm and appreciation for art.