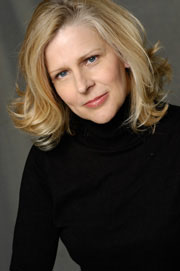 Contact Information:
Susan Scott
705 Fox Bend Trail
Edmond, OK 73034
Phone:
(405) 359-1896 (day)
(405) 641-3545 (evening)
Email:
Discipline:
Theatre Arts
Participants:
Early Childhood, Childhood, Adolescents, Adults and Elders, Youth at Risk and those with special needs
Settings:
Schools: pre-k, elementary, middle, high, special ed, alternative ed
Community Sites: art centers, libraries, parks and recreation centers
Availability:
Statewide, Year-round
Bio:
Susan Scott has 27 years of experience directing, acting and conducting drama workshops for people of all ages. She works with students in alternative education and has taught creative dramatics at various summer arts camps around the state. She holds a Bachelors Degree in Theatre Performance from Penn State University and takes graduate classes in Drama Therapy from Kansas State University. She has been an Oklahoma Artist in Residence for 10 years, traveling throughout the state teaching drama in public schools and private schools from preschool through college and for other organizations such as Oklahoma City Library and Studio Mid-Del. She is a member of the Faculty of the Fine Arts Institute in Edmond where she not only teachers classes, but organizes and administers their Theatre Escape Camp and yearly directs their children's theatre productions.
She has been hired by organizations such as Leadership Oklahoma and other boards where she used her skills to teach their members to draw on their creativity, be more comfortable in front of audiences, develop group problem solving and enhance team-work.
Before coming to Edmond, among other activities, she directed for the Lawton Community Theatre, Duncan Little Theater and Southeastern Oklahoma State University. She also worked with Stephen's County Youth Services and Duncan Arts and Humanities in presenting an original teen play for their annual health conference, "Kaleidoscope." She also loves creating costumes and has costumed many shows throughout the years.
Learning Goals:

Survey basic theatre terminology and utilize in a class presentation.
Understand and implement theatre etiquette in regards to the director/actor relationships and actor/actor relationships.
Develop Team building and problem solving strategies through acting exercises that develop physical and vocal enhancement, abstract thinking and creative examination.
Learn to assume roles that exhibit concentration and contribute to the action of classroom dramatizations based upon personal experience, heritage, imagination, literature and history.
Analyze descriptions, dialogue, and actions to discover, articulate and justify character motivation and invent character behaviors based upon the observation of interactions, ethical choices and emotional responses of people.
Demonstrate acting skills (such as sensory recall, concentration, breath control, diction, body alignment, control of isolated body parts) to develop characterizations that suggest artistic choice.
Implement improvisation guidelines to develop an improvisation performance team. Guidelines include listening, cooperation, creative input, the drama formula (who, what, where), emotional control and respect for boundaries.
Understand the importance of selfreflection and analysis in the acting process. Use observation as a tool to create characters and develop scenes.Develop drama criticism using theatre terminology and making connections, reacting, interpreting and questioning in a respectful setting.