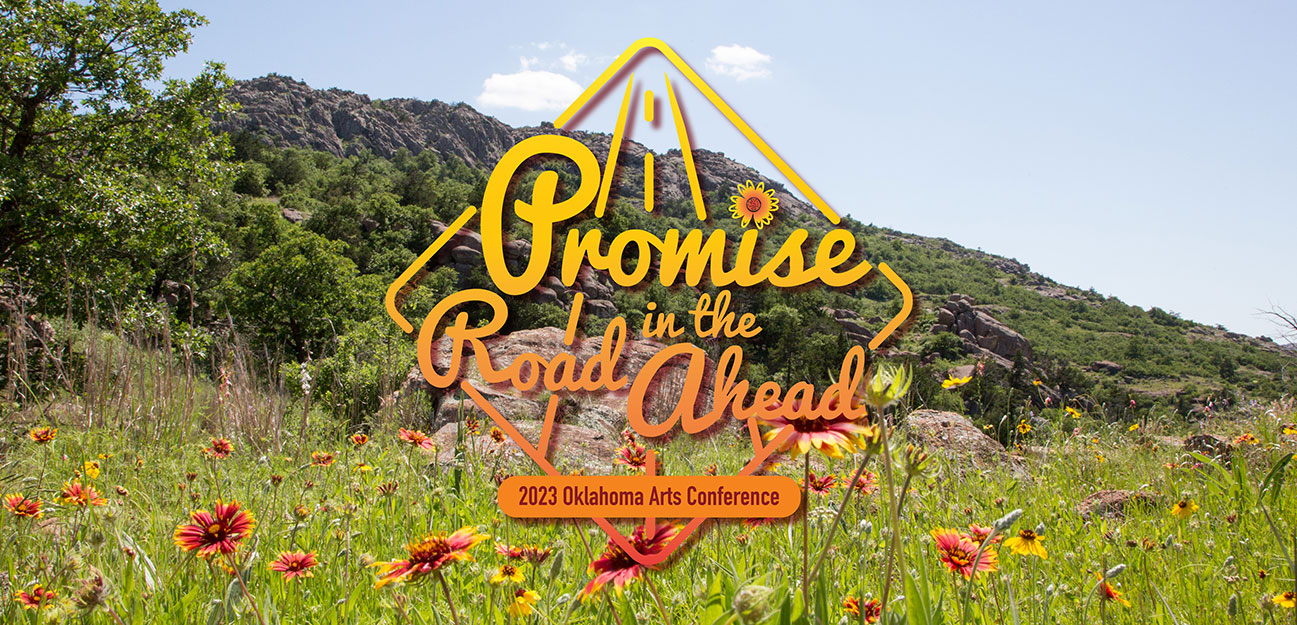 2023 Oklahoma Arts Conference
"Promise in the Road Ahead"
Cindy Scarberry
Cindy Scarberry has been with the Oklahoma Opry for over 35 years, serving as vocalist, Talent Coordinator and Program Director. Executive Director since 2009, Scarberry has continued to grow the organization's educational programming through programs such as the Granville Community Music School, the Guitar Initiative for Veterans pilot program, and the official Guitars for Vets OKC chapter. Scarberry is a professional singer, songwriter, and studio vocalist. She was recently named one of Oklahoma's Women of Song, has been inducted into Grant Leftwich's Opry Hall of Fame, and recognized by the State of Oklahoma for her contributions to the Oklahoma Tourism and Recreation Department. Reflecting Scarberry's work, the Opry was honored with a Governor's Arts in Education award in 2015. In 2017, she graduated from the Oklahoma Arts Council's Leadership Arts program. In addition to Scarberry's work with the Opry, she has led arts training workshops for Oklahom A+ Schools Institute, Africa A+ Network, Oklahoma Arts Institute at Quartz Mountain, and San Francisco Symphony's Keeping Score program. She is a national board certified music teacher who taught in Norman Public Schools for more than 20 years. In 2002, she was a Fulbright Memorial Fund Fellow to Japan. In 2006, she was a National Fund for Teachers Fellow to Zimbabwe, where she and her team won the National Raymond Plan Fellowship Award for Teaching Excellence. In 2009, the University of Oklahoma's Jeannine Rainbolt College of Education named Scarberry their Educator of the Year. Currently, Scarberry is bringing to fruition a vision for the Opry to relocate to Oklahoma City's Bricktown district.
Cindy Scarberry's Schedule
Oklahoma Arts and the Military Summit III
Date: Tuesday – October, 17 2023 Time: 9:00am - 4:00pm
Room: McCasland Ballroom
Theme: Arts, Health, and Wellbeing Across the Military Continuum

Geared towards both the arts and military communities, the Oklahoma Arts and the Military Summit III will take place as a pre-conference event. Featuring special guest speakers, group discussions, a workshop, and a performance by Perpetual Motion Dance (perpetualmotiondance.org), the summit will offer attendees the knowledge and skills to develop cross-sector collaborative programs that will bring meaningful arts learning opportunities to Oklahomans across the spectrum of military experiences. Join us to learn how to expand arts programming to uniquely meet the needs of the military community statewide.

Individuals do not need to register for the full Oklahoma Arts Conference to attend this one-day summit, but they must RSVP by contacting Erika Wilhite at erika.wilhite@arts.ok.gov.


The Oklahoma Arts and the Military Summit III is made possible in part with the support of Mid-America Arts Alliance
.
Receive updates about the Oklahoma Arts Conference.
Questions?
For more information contact our Director of Rural and Creative Community Outreach.