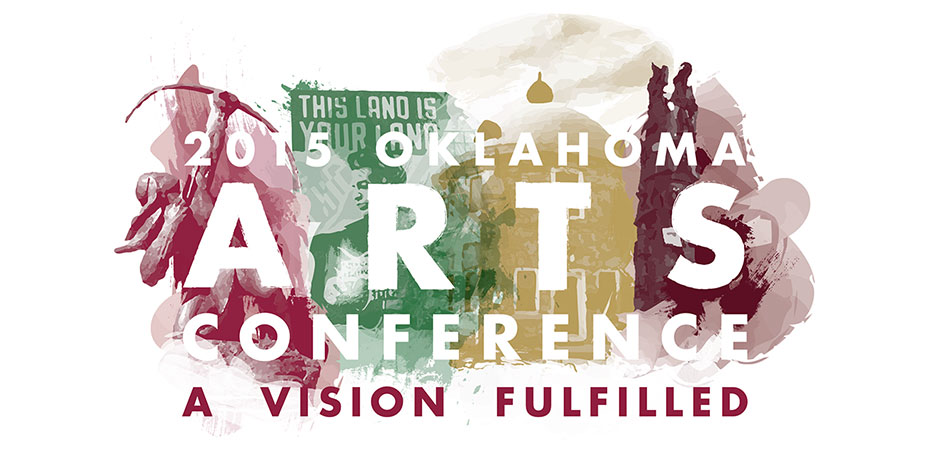 Things to Do and See in Tulsa & Special Conference Events
Make the most of your Oklahoma Arts Conference experience by enjoying Tulsa's phenomenal arts and cultural offerings.
Places to Visit During the Conference
Complimentary Admission to the Gilcrease Museum, 1400 N. Gilcrease Museum Rd., Tulsa, OK 74127
Located just a ten minute drive from downtown Tulsa, the Thomas Gilcrease Institute of American History and Art, commonly known as Gilcrease Museum, is one of the country's best facilities for the preservation and study of American art and history. Exhibitions on display include the recently opened Painted Journeys: The Art of John Mix Stanley and Native American Bolo Ties: Vintage and Contemporary Artistry, as well as permanent collection installations spanning early America to contemporary time periods.
Conference guests can present their name badge to receive complimentary museum admission from Tuesday, October 20th, through Thursday, October 22nd. The Gilcrease Museum is open from 10:00 a.m. to 5:00 p.m.
The Unbearable Absence of Landscape is a statewide knitting project to unite communities and draw attention to the increase in diminishing landscapes. Led by Oklahoma artist Romy Owens, the project is comprised of independent knitters, knitting circles, and outreach groups to create a single large "blanket" that will cover the façade of 108 | Contemporary's gallery in the Brady Arts District. The top portion will be comprised of blue squares while the lower half will consist of green squares. From a distance it will appear as a continuation of the landscape, in essence making the gallery a part of the skyline.
Be part of the process in creating the large scale knitted landscape that will be installed on the façade of 108|Contemporary in November 2015. Stop by the "seaming spot" on the first floor of the Hyatt Regency Tulsa (near the registration desk) and help seam together knitted squares using a simple stitch. Lead artist Romy Owens will be on hand to teach beginners. Time commitment is minimal. Attention to detail is important.
Seaming will take place at the Hyatt Regency Tulsa during the following times:
Wednesday, October 21st from 8:00 a.m. to 2:45 p.m.
Thursday, October 22nd from 8:30 a.m. to 4:30 p.m.
Greenwood Cultural Center
322 N. Greenwood Ave.
The Greenwood Cultural Center (GCC) is the undisputed jewel in the crown of Tulsa's historic Greenwood District. One of the building's most valuable contributions is an impressive collection of pictorial exhibits and photos from before, during, and after the 1921 race riot that gives visitors a taste of Greenwood's unique history. The mission of the Greenwood Cultural Center is to preserve African-American heritage and promote positive images of the African-American community by providing educational and cultural experiences, promoting intercultural exchange, and encouraging cultural tourism. Admission to the Greenwood Cultural Center is free, and the hours of operation are Monday through Friday, 9:00 a.m. to 5:00 p.m.
Tuesday, October 20th
9:00 a.m. to 5:00 p.m.
Glassblowing Lessons at the Tulsa Glassblowing School
19 E. Brady St.
Enjoy the unique experience of creating your own original work of glass art. Individuals may sign up for a lesson and make a two-color flower or paperweight.  Lessons are approximately 40 minutes and will take place between 9:00 a.m. and 5:00 p.m. on October 20th. Cost is $35 per person. This opportunity is limited to a small number of participants and is available first-come, first served. To register for a lesson, call 918-582-4527. Completed art works can be picked up the following day.
Tulsa Ballet – Tours of the Facility and Studios
1212 E. 45th Pl. South, Tulsa, OK 74105
Visit the Tulsa Ballet facility and see where the professional dancers of Tulsa Ballet train and rehearse, including the Studio K Theater. Tours may also include a visit to the wardrobe department to see the company's large collection of costumes and tutus.
Tours offered at 2:00 p.m. and 3:00 p.m.
Contact Jessica Novak to reserve your time: 918-392-5928 or jessica.novak@tulsaballet.org
5:00 p.m. to 7:00 p.m.
Brady Arts District Stroll
Enjoy evening stroll through the Brady Arts District, which is home to several world-class museums, galleries, art studios and eclectic retail shops. Selected arts spaces will offer refreshments and live music.  The Brady Arts District also features several local restaurants, eateries and bars. Plan to stay and enjoy dinner with your fellow conference attendees. (Restaurant guide is provided).
Participating arts and cultural spaces include:
108 Contemporary, 108 Brady St.
AHHA, 101 E. Archer St.
The John Hope Franklin Reconciliation Park, 321 N. Detroit
Living Arts of Tulsa, 307 E. Brady St.
Mainline Art Bar, 111 N. Main St.
Philbrook Downtown, 116 E. Brady St.
TAC Gallery/Tulsa Artists' Coalition, 9 E. Brady St.
Tulsa Glassblowing Studio, 19 E. Brady St.
Woody Guthrie Center, 102 E. Brady St.
Zarrow Center for Art, 124 E. Brady St.
Many of the participating galleries and art spaces are also open during regular business hours. Conference participants are encouraged to stop by throughout the week.
6:30 p.m. to 8:00 p.m.
John Hope Franklin Center for Reconciliation Community Conversation
Living Arts of Tulsa, 307 E. Brady St.
Community Conversations began in 2013 to encourage continuation of conversations begun at the John Hope Franklin Center for Reconciliation's annual Dinner of Reconciliation.  From the beginning, the Community Conversations have attracted participants who mirror the wonderful multi-generational, multi-racial dinner guests. The monthly Conversations typically begin with open-ended questions to encourage discussion of current events or perennial challenges to racial reconciliation. The conversations are free-flowing, respectful of differences, and focused on ideas, not individuals.
The Center is pleased to invite Oklahoma Arts Council participants to a special Community Conversation at 6:30 p.m. October 20 at Living Arts in the Greenwood District.  The conversation plans reflect issues of ongoing interest to the arts community: cultural appropriation, cultural appreciation, and the transformative potential of the arts. Join us, share your ideas, add your voice to the community conversation – change the community.
8:00 p.m. to 10:00 p.m.
Blues Jam Session at the Depot
Oklahoma Jazz Hall of Fame
5 South Boston Ave.
Free live blues at the Jazz Depot. Stop by to play or listen.
Wednesday, October 21st
5:00 p.m. to 7:00 p.m.
Opening Reception at the Philbrook Museum of Art
2727 South Rockford Road.
Join your Tulsa community hosts and fellow conference attendees for an evening of good company, hors d'oeuvres, and live music. Conference guests will have the opportunity to explore the world-class Philbrook Museum of Art to view permanent collections and special exhibitions including:  In Living Color: Andy Warhol and Contemporary Printmaking from the Collections of Jordan D. Schnitzer and His Family Foundation and Modern Times: British Prints from the 1920s and '30s . Located just five miles south of downtown Tulsa, the Philbrook Museum of Art's permanent collection encompasses European, American, Native American, Modern and Contemporary Art Design, African, Asian, and Antiquities.  The historic home built in Italian Renaissance Revival style and the legendary gardens make a visit to the Philbrook a memorable experience. Bus transportation will be available to and from the Philbrook Art Museum, the Brady Arts District, and the Hyatt Regency Hotel until 8:00 p.m.
8:00 p.m. to 11:45 p.m.
Café Kzany
Living Arts of Tulsa
307 E. Brady St.
The Kzany Family returns to Tulsa for another family reunion. Sponsored by Living Arts of Tulsa, this late night cabaret show features your talented friends and colleagues from across Oklahoma. Become an official member of the Kzany family simply by signing up to perform.  Performances must be five minutes or less and can include poetry, music, dance, comedy, or just about anything…the zanier the better. Doors open at 8:00 p.m. and the show begins at 8:30 p.m.
Thursday, October 22nd
Tulsa Ballet presents a free performance of The Taming of the Shrew
Tulsa Performing Arts Center
110 E. 2nd Street, Tulsa, OK 74103
Oklahoma Arts Conference participants are invited to attend Tulsa Ballet's dress rehearsal of The Taming of the Shrew, free of charge. William Shakespeare's famous comedy springs to life with spectacular choreography and hilarious, fast-paced action. Choreographer John Cranko's witty and touching masterpiece is set to a delightful score by Domenico Scarlatti. The performance features live music by the Tulsa Symphony Orchestra. Visit www.tulsaballet.org for more information. Performance run time is 2 hours and 17 minutes including one intermission. Space is limited and tickets are first-come, first-served.  To make reservations, contact Jessica Novak by October 9 at 918-392-5928 or jessica.novak@tulsaballet.org
Recommended Places to Eat in Tulsa
BRADY ARTS DISTRICT
Caz's Chowhouse
Serving comfort food for lunch and dinner with a full bar with a banquet space.
18 East Mathew B. Brady Street
918-588-2469
www.cazschowhouse.com
Chimera Cafe
Specialty coffee, tea, healthy fare, and cocktails.
212 N. Main
918-779-4303
Coney Island Hot Weiners
Oldest Coney Restaurant in Tulsa - Homemade Chili Made Daily
107 N Boulder # D
Tulsa, OK 74103
918-587-2821
Gypsy Coffee House & Cyber Cafe
Tulsa's most romantic Coffee house & Tea room, serving Tulsa for 16 years, open early, closing late. Several fine deli foods and desserts galore baked fresh in house.
303 N. Martin Luther King, Jr. Blvd.
Tulsa, OK 74103
918-295-2181
www.gypsycoffee.com
Hey Mambo Italian Brick Oven
Located in the Historic Brady Arts District, Hey Mambo is a true brick oven Italian restaurant and wine bar where the control of the dining experience is placed firmly in your hands..
114 North Boston Ave
918-508-7000
www.heymambo.com
Laffa - Medi-Eastern Restaurant and Bar
A middle Eastern/Mediterranean restaurant and falafel stand with a local feel.
111 Main St., Suite E
918-728-3147
www.laffatulsa.com
Lucky's on the Green
170 East Cameron St.
918-592-5825
Mexicali Border Cafe
Mexicali Border Cafe is proud to offer authentic Mexican cuisine and our Margaritas can't be beat.  We offer a full menu with Quesadillas, appetizers, fresh salads, soups, Fajitas and specialty plates. 
14 W M.B. Brady Street
918-582-3383
www.mexicalibordercafe.com
Oklahoma Joe's
Family-owned barbecue restaurant. 
421 N. Main St.
918-355-0000
www.okjoes.com
PRHYME
An upscale, modern American steakhouse.
111 N Main St
 918-794-7700
www.prhymetulsa.com
Sisserou's
Authentic Caribbean cuisine with a modern flare.
107 N Boulder Ave, #C
 918-576-6800
www.sisserousrestauranttulsa.com
Spaghetti Warehouse
A Warehouse Full of Food, Friends & Fun
221 East M.B. Brady Street
918-587-4440
www.meatballs.com
The Hunt Club
A full restaurant and bar with live music.
224 North Main Street
918-599-9200
www.thehuntclubtulsa.com
The Rusty Crane
Restaurant and late night destination.
109 N. Detroit
918-947-5454
www.rustycranetulsa.com
The Tavern
201 N. Main Street
918-949-9801
www.bradytavern.com
BLUE DOME DISTRICT
Dilly Deli
Serving up breakfast all day, housemade bread, pastries, pies & cakes, homemade soft serve, house cured meats, local produce and much more!
402 E. 2nd Street
918-938-6382
www.dillydelitulsa.com
El Guapo's Cantina
Tulsa's only roof top cantina with gorgeous views of downtown Tulsa.
332 E 1st St
918-382-RITA
www.elguaposcantina.com
Fassler Hall
This German gem in the heart of downtown Tulsa is known for its German beer and live entertainment. The duck fat fries served with Gouda cheese are out of this world!
304 S. Elgin Avenue
918-576-7898
www.fasslerhall.com
Joe Mamma's
Inventive brick oven specialty pizzas, delicious sandwiches and salads, and a large selection of local craft beers.
112 S. Elgin Avenue
918-794-6563
www.joemommas.com
Juniper
Using products sourced from Green Country, Juniper's menu evolves with the changing seasons, which includes new and exciting plates with Italian, French, Spanish and American influences.  Juniper specializes in innovative mixology, utilizing infused vodkas and gins, flavored bitters and food highlights in cocktail drinks.
324 E. 3rd Street
918-794-1090
www.junipertulsa.com
Lambrusco'z To Go - Deli and Catering Market
114 S Detroit Ave.
918-496-1246
www.lambruscoz.com
McNellie's Public House
Oklahoma's best beer and scotch selection with 60 tap handles and over 300 bottled beers from all over the world. Their menu features fresh foods, including their famous burger and sweet potato fries.
409 E. 1st Street
918-382-7468
www.mcnellies.com
S&J Oyster Bar & Seafood Cafe
Seafood, Chicken, Burgers, Full Bar, family friendly…there's something for everyone at S&J Oyster Co.
308 East 1st Street
918-938-7933
www.sjoyster.com
Tallgrass Prairie Table
A Farm to Plate restaurant serving Modern American cuisine that is both locally and globally inspired and locally sourced.  Tallgrass partners with several local farms and ranches, most importantly Z7Bar Ranch in Pawhuska and the Living Kitchen Dairy and Farm in Depew, to bring Tulsans the freshest local ingredients possible.
313 East 2nd Street
918-933-4499
Yokozuna
An Asian restaurant and sushi bar that features a modern twist on classic cuisine from Japan, China, and Thailand.
309 E. 2nd Street
918-508-7676
www.yokozunatulsa.com
DOWNTOWN TULSA
Daily Grill (located in the Hyatt Regency Tulsa)
100 E. 2nd Street
918-295-7748
www.dailygrill.com
Elote Café
Mexican
514 S. Boston Ave.
918-582-1403
www.elotetulsa.com
East Village Bohemian Pizza
Authentic Neopolitan woodfire pizza
818 E. 3rd Street
918-895-6999
www.eastvillagebohemian.com
The Vault
Classic American fare and craft cocktails in a mid-century modern setting.
620 S Cincinnati Ave
918-948-6761
www.vaulttulsa.com
Questions?
For more information email us at conference@arts.ok.gov.