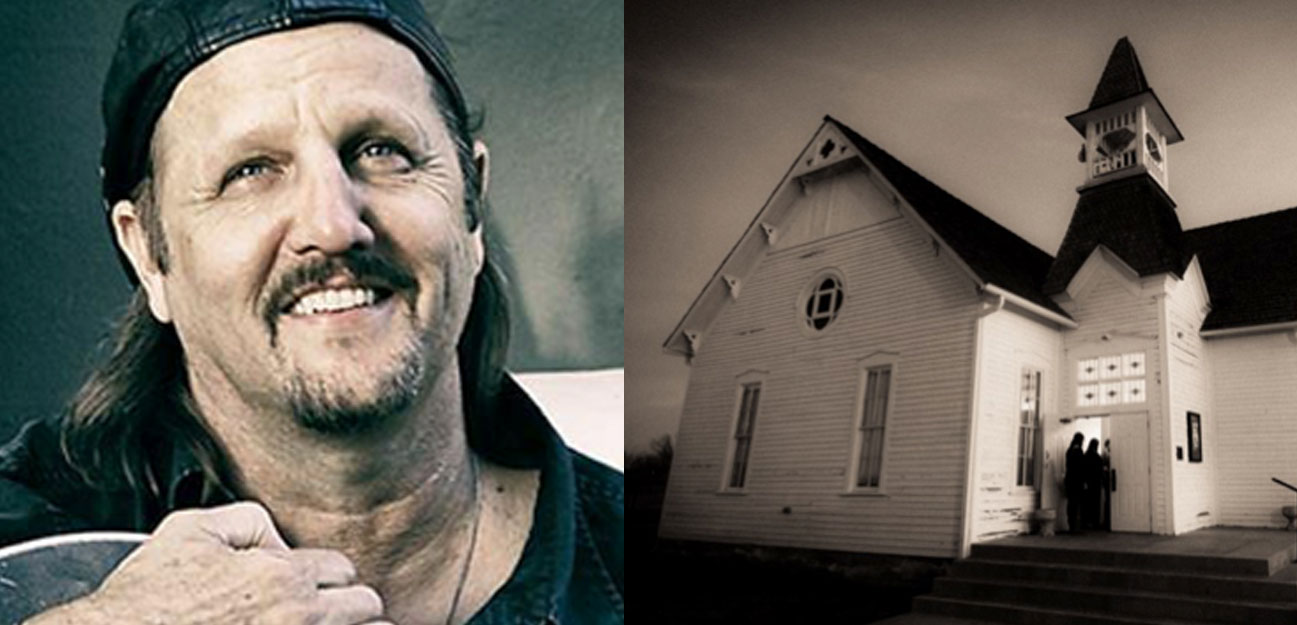 Cimarron Breeze Concert and Supper Featuring Jimmy LaFave & Night Tribe ($40 through October 1)
Oklahoma Territorial Plaza
Perkins, Oklahoma
Wednesday, October 26
5:00 p.m. Supper
6:15 p.m. to 8:15 p.m. Concert
The folks at the Cimarron Breeze Concert Series and the little town of Perkins, Oklahoma, are excited to welcome Oklahoma Arts Conference attendees for a special concert and supper on Wednesday, October 26, following the conclusion of the 2016 Oklahoma Arts Conference.
The supper and concert will take place at the Oklahoma Territorial Plaza, located just 10 minutes south of Stillwater, via Perkins Road (Highway 77). The historic buildings at the Territorial Plaza will be open, and docents will be ready to greet conference attendees and share the history of the beautifully preserved structures.
A buffet supper provided by Good Little Eater will be available from 5:00 p.m. to 6:15 p.m. in the Vassar Center, locates a few steps south of the old homestead of Frank Eaton, the inspiration for OSU's mascot, Pistol Pete.
The concert featuring Jimmy LaFave & the Night Tribe will take place in the Old Church Center from 6:15 p.m. to 8:15 p.m.
The ticket price includes supper and the concert.  Tickets may be purchased when registering for the conference. Tickets are $40 per person through October 1. After October 1, tickets may be available for $45. Availability is limited. First come, first served. Additional tickets available for individuals not attending the conference may be purchased at www.cimarronbreeze.com
About Cimarron Breeze Concerts
Cimarron Breeze concerts and songwriter showcases are held in the Old Church Center at the Oklahoma Territorial Plaza in Perkins, Oklahoma.
Over the past three years, the Cimarron Breeze series has hosted the heart of the Oklahoma music scene, featuring amazing songwriters, musicians, songs, and a few potluck dinners. Through the efforts of Monica Taylor and David Sassar, publisher of the Perkins Journal, the church has hosted John Fulbright, Jimmy LaFave, The Cherokee Maidens & Sycamore Swing, Joel Rafael, Don Conoscenti, and many others. Additional information about the concert series is available at www.cimarronbreeze.com. Built in 1893 as the Methodist Episcopal Church, the Old Church Center was originally located at 202 E. Thomas Street in Perkins. Services were held at the location for almost a century. At its current location, the church was a gift to the community through David Sassar. Restoration of the church was made possible through gifts from Bill and Virginia Sassar, Harland and Beverly Wells, and Don and Martha Lyon.
About Jimmy LaFave & the Night Tribe
Jimmy LaFave was born in Wills Point, Texas, a small town 30 miles east of Dallas. He began school down the road in Mesquite and by Junior High was making music perched behind his Sears & Roebuck drum kit. It wasn't long before his mother traded a drawer full of green stamps for his first guitar and the switch to singer–songwriter was in progress. His family later moved to Stillwater, Oklahoma, where he finished high school. Although he has lived in Austin for over 20 years, many people think of him as being from Oklahoma, because of his strong musical ties to the state and what he often refers to as its "red dirt music." It was in this landscape that he began to define his sound and soak up a combination of his experiences among authentic songwriters from the tradition of Woody Guthrie. Before leaving Oklahoma for Austin, Jimmy did some independent recording and toured the southwest with the first version of his band Night Tribe. LaFave's performances consist of his original music as well as some favorite Woody Guthrie songs and stories about his long-time friendship with the Guthrie family.
About Good Little Eater Catering
Supper will be catered by one of Stillwater's primo chefs and caterers, Sarah Ramsay and Good Little Eater. Ramsay will prepare two main courses, beautiful harvest salad, harvest time vegetables, homemade bread, and one of her special desserts. She uses the produce and meats from local farmers. The needs of vegetarian, vegan, gluten free folks will be considered. 
Saint Francis of the Woods Retreat Center (Coyle, Oklahoma)
For individuals looking for a place to stay on Wednesday night, Saint Francis of the Woods Retreat Center is located on a hill above the Cimarron River, 10 minutes west of Perkins on Highway 33. The center offers cabins, cottages, and old farmhouses with full kitchens. Hiking trails, pastures, dirt roads, a chapel, and a library are available to explore. Donations of $40-$50 per person are suggested. More information is available at www.stfrancisofthewoods.org.
Questions?
For more information email us at conference@arts.ok.gov.