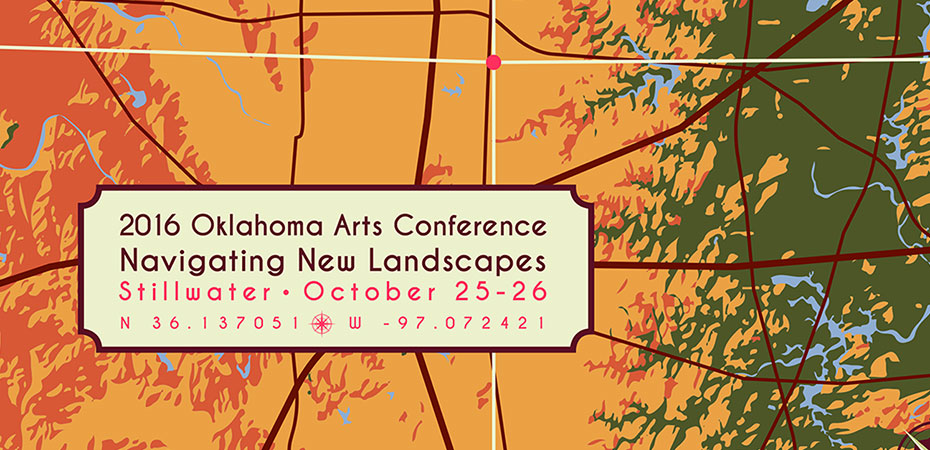 Conference Schedule
Online registration ended October 14. Interested in attending? Stop by the conference registration desk with a check, cash, or purchase order. Credit cards will not be accepted at the registration desk. Registration is $135.
Monday, October 24

12:00 p.m. to 5:00 p.m.
Registration Open
10:00 a.m. to 5:00 p.m.
Oklahoma Arts and Military Summit
Pre-conference Activity (no cost)
Stillwater Public Library, Auditorium Room
1107 S. Duck Ave.
Stillwater, OK 74074
Presented by the Oklahoma Arts Council, in partnership with the Oklahoma Department of Veterans Affairs, the Oklahoma Arts and Military Summit provides a forum for staff from arts and veterans organizations as well as teaching artists across the state to network and learn how to better serve members of Oklahoma's military community through the arts. This one-day session will include presentations about the Oklahoma Arts Council's Oklahoma Arts and the Military Initiative and pilot arts program recently held at the Norman Veterans Center. The session will equip participants with basic skills needed to design an arts program that creatively engages the military community. Upon completion of this training, participants will have a plan that they can implement in their communities, they will gain access to statewide resources, and they will have the opportunity to develop new partnerships.
There is no cost to attend this program, and lunch will be provided. Space is limited and will be available on a first-come, first-served basis. RSVP required by October 10. Please contact Chandra Boyd, Arts Learning in Communities Director, Oklahoma Arts Council, at (405) 521-2023 or Chandra.Boyd@arts.ok.gov to reserve your spot
1:00 p.m. to 4:30 p.m.
Stillwater Community Arts Tour
Departing from Multi Arts Center, 1001 S. Duck St.
Hop on a bus and spend the afternoon visiting some of Stillwater's creative arts spaces and facilities. Featured locations include the Multi Arts Center, Backstage Stillwater event space, sculptor Morgan Robinson's downtown studio, The Studios at Berry Ponds, Town & Gown Theatre, Mike Larsen's studio, and a stop at the future site of The McKnight Center for the Performing Arts on the campus of Oklahoma State University. Participants will receive an email prior to the conference with parking and logistical details.
Cost to attend this tour is $10 per person.  Availability is limited. First come, first served.
2:30 p.m. to 4:00 p.m.
Dance Workshop with Perpetual Motion Dance
Oklahoma State University Colvin Recreational Center, Dance Studio #2, 101 Colvin Center
Members of Perpetual Motion Dance Company will offer a free introductory workshop on various elements of modern dance techniques including proper warm ups, rhythmic patterns and dynamic movement phrases. All levels of expertise are welcome. There is no cost to attend this workshop, but space is limited and RSVP is required. Metered parking is available for campus visitors in Lots 73 and 80 near the Colvin Center. The Colvin Center is located on the corner of Hall of Fame and Cleveland Street. For questions about this program or to reserve your spot in the workshop, email Brandon Mitts at mitts@okstate.edu.
6:00 p.m. to 8:00 p.m.
The ONEAL Deal: A Gathering for Oklahoma's New and Emerging Arts Leaders
Stillwater Community Center
315 W. 8th Street
Geared towards Oklahoma's next wave of arts leaders, this forum will focus on how emerging arts leaders and artists can create a successful career in the arts, right here in Oklahoma. As a peer-driven network, ONEAL events allow younger arts leaders and enthusiasts an opportunity to network and share resources. Who should attend: college students, artists, performers, musicians, creative entrepreneurs, arts enthusiasts, community leaders, cultural workers, young professionals, educators, arts advocates and anyone who wants to work to advance the arts in Oklahoma.
There is no cost to attend this event, but you must RSVP by emailing Thomas Tran at thomas.tran@arts.ok.gov.


Tuesday, October 25

8:00 a.m. to 5:00 p.m.
Registration Open at the Wes Watkins Center
9:00 a.m. to 9:45 a.m.
Good Morning, Stillwater!
Kick-start the 2016 Oklahoma Arts Conference by gathering and networking with your fellow Oklahoma arts leaders. Led by Stillwater conference hosts Carrie Kim and Chris Ramsay, this lively morning program will help you learn how to make the most of your entire conference experience.
9:45 a.m. to 11:15 a.m.
Where to Begin? Social Media Basics for Arts Organizations
Presenter: Emily Reed, CRFE
What expectations should my organization have about being on social media? On how many platforms should my organization have a profile, and which ones should I pick? Why is it when I post to my organization's Facebook page, no one sees my post? All of these questions and more will be answered in this session for volunteers and staff members who manage the social media for their arts organization.
9:45 a.m. to 11:15 a.m.
Career Planning for Artists
Presenter: Anna Metcalfe
Where do you want to be artistically and professionally? Learn how to define your values, identify key choices and develop a plan to achieve your career goals. This session takes participants from big ideas to specific action steps that will help you make progress on a daily basis. Through a guided step-by-step process of exercises, artists will learn how to create a system and process that fits their individual career goals.
9:45 a.m. to 11:15 a.m.
Below-the-Ground-Up: Local Cooperatives as a Model for Sustainable Community and Arts Development (Session 1)
Presenter: Rachel Reynolds Luster
This program is for artists, arts administrators, government representatives, community developers or just engaged concerned community members looking for sustainable solutions for their communities. Rachel Reynolds Luster will offer a background history of the Oregon County Food Producers and Artisans Co-Op as an alternative model for arts and community-based practice. This grassroots, volunteer-led organization touches on a model based on community-sufficiency and sustainability. The project has become a model around the country and was born of the needs and resources of a small community in the Missouri Ozarks.  
9:45 a.m. to 11:15 a.m.
Grow it Local: Arts Education Advocacy
Moderator: Julia Kirt, Panel: Mariam Costilow, Gayla Foster, and Jeff Poulin
Every student deserves an arts-rich education. You can improve students' access to arts education in your community. New education policy for schools encourages local control of many decisions. Your local advocacy can make a difference for local decision making. Focusing primarily on in-school arts education, this session will look at what decisions about arts education are made locally and how even one person can help guide better arts education policy for students.
9:45 a.m. to 11:15 a.m.
Your Organization's Story: Harnessing the Power of Oral History
Presenter: Sarah Milligan
The history of an arts organization can be complex and compelling, and documentation of the story can be an essential tool for ensuring an organization's sustainability. Documenting first person perspectives of the creation and growth of your organization is valuable not only inside your organizational walls, but also as a way to communicate your core values and mission to those you serve. This workshop will walk you through the basic framework of organizing an oral history project for your organization. This presentation will include national oral history standards, best practices for recording oral histories within your membership and recommended methods for archiving material for access and long term care.
11:30 a.m. to 1:00 p.m.
General Session Luncheon
Performance by Stillwater High School Concert Choir
Moderator: Nancy Leonard, Board Chair, Oklahoma Arts Council
Welcome: Alane Zannotti, Councilor, Stillwater City Council
Presentation: The Honorable Lee Denney and The Honorable Cory Williams
Special Guest Speaker: Ann Hargis, First Lady, Oklahoma State University
Reading by Benjamin Myers, Oklahoma State Poet Laureate
Announcements: Amber Sharples, Executive Director, Oklahoma Arts Council
Dessert, coffee, and networking

1:15 p.m. to 2:45 p.m.
Making Poetry from your Memories
Presenter: Benjamin Myers, Oklahoma State Poet Laureate
Everybody has a story to tell. This workshop will help you tell your story through poetry. Through a series of guided exercises, including instruction in poetic technique, participants will explore ways to compress their recollections into compelling, sharable poetry. Areas of exploration include the following: imagery, metaphor, diction, rhythm, line and sound. Participants will have the opportunity to produce a poem during the workshop and to share it with the other participants.
1:15 p.m. to 2:45 p.m.
For Hire, To Inspire
Is your organization looking to add or expand current arts education offerings? At this session, you will hear directly from a few of the talented and experienced teaching artists who are members of the Oklahoma Arts Council's Teaching Artist Roster. These artists represent a wide variety of artistic disciplines in the visual and performing arts, and their courses draw from the artists' experience working in various settings including schools, art centers, senior centers, healthcare facilities, and more. Available to teach in communities throughout the state, many of the featured teaching artists have been perfecting their craft for decades. This compilation of brief, yet creative presentations will provide you with new possibilities for your arts education programs and will leave you inspired.
1:15 p.m. to 2:45 p.m.
Working with your Regional Arts Organization—Mid-America Arts Alliance
Presenters: Todd Stein and Margaret Keough
Todd Stein and Margaret Keough will review the many programs and funding opportunities offered through Mid-America Arts Alliance. Opportunities covered in their presentation will range from arts and humanities programming and professional development for cultural organizations and artists to regional arts funding and the M-AAA grant process. Learn how your regional arts organization works for you and the arts in Oklahoma.
1:15 p.m. to 2:45 p.m.
A Reflection of People, Place, and Culture: A Mindful Approach to Public Art Projects
Moderated by Jennifer Borland and Louise Siddons, Panelists: Jonathan Hils, Adam Lanman, and Oklahoma State University Art History Students
Public art plays an important role in defining community identity. This panel session will address how artists, community members, and civic organizations can develop innovative public art projects that have an authentic connection with their local community. As part of their required coursework this semester, Oklahoma State University Art History students have been engaging the Stillwater community in dialogue about how local public art reflects our American history and local culture. Their research findings will be shared as part of this panel session. Artists Adam Lanman and Jonathan Hils will discuss how they have initiated and incorporated community dialogue and input into their public art projects.
1:15 p.m. to 2:45 p.m.
Art, Activism, and Next Steps
Panelists: Grace Franklin, Vanessa Morrison, Tiffani Sanders, and Chaya Fletcher
Founders of OKC Artists for Justice will discuss the origins of the organization and the process of transitioning from a movement to an organization. While there are great and unique benefits for artists involved in advocacy, organizing, healing, and media, there are also challenges in maintaining the artistic medium and energy while advocating. Panelists will discuss all of these aspects and share valuable strategies that can be applied to the artistic process.
2:45 p.m. to 3:15 p.m.
Break
Take time to visit with colleagues, stop by the resource tables, or make an original poster at the Payne County Print-A-Thon. Enjoy live music by Carter Sampson in the International Courtyard. (In the case of inclement weather, the performance will take place in the International Exhibit Hall.)
3:15 p.m. to 4:45 p.m.
Below-The-Ground-Up: Local Cooperatives as a Model for Sustainable Community and Arts Development (Session 2)
Presenter: Rachel Reynolds Luster
This program is for artists, arts administrators, government representatives, community developers or just engaged concerned community members looking for sustainable solutions for their communities. Utilizing the Oregon County Food Producers and Artisans Co-Op as a model, Rachel Reynolds Luster will work with participants to identify the local community needs and resources that can be used as tools for creating sustainable organizational models and program structures. In this interactive session, participants will work together to develop an action plans that can be implemented in their own communities.
3:15 p.m. to 4:45 p.m.
"We Have a Facebook Page, Now What?" Beyond the Basics of Social Media for Nonprofits
Presenter: Emily Reed, CFRE
Your organization has at least one social media page and a pretty good following. Now what? What kind of content should your organization post on your social media platforms? How does your organization keep your content fresh without consuming all of your time at work? How can you turn those "likes" into volunteers and donations? All of these questions and more will be answered in this workshop intended for the intermediate social media user who manages the platforms for their arts organization.
3:15 p.m. to 4:45 p.m.
Business Plan Essentials for Artists
Presenter: Anna Metcalfe
Learn how to prepare a simple business plan, in arts-friendly language, to help you organize all the various aspects of your artistic practice and make informed business decisions. This session will explore ideation of products and services, develop a proto-business plan template and create section-by-section prompts to help along the way.
3:15 p.m. to 4:45 p.m.
The Innovation Station Idea Exchange
Moderated by Lance McDaniel
The Innovation Station Idea Exchange provides a lively forum where artists, arts and community leaders, and others can present brief, two-minute descriptions of new works in process, ideas for new projects, or artistic community-based collaborations. The Idea Exchange can be used as a "show and tell" for the innovative things happening in your community or studio. You can use your two minutes to share favorite resources, books, and websites that you would recommend to other arts leaders. This session is an excellent opportunity for networking and developing new collaborations. Prior to this session, participants will have the option to sign up at the conference registration to present their ideas - feel free to get creative with your presentation.
3:15 p.m. to 4:45 p.m.
Managing your Organizational Records to Leverage your Image and Surpass Personal Institutional Memory
Presenter: David Peters
This workshop is designed to help organizations preserve their institutional story through saving, securing, and sharing their most appropriate and significant documents. Managing a variety of records produced in a number of formats does not have to be a daunting chore. The workshop will help provide practical suggestions to assist in the creation of collection development plans, guidelines for records appraisal, and recommendations for the secure long term storage of these materials. Discussion will include ways to creatively share your organization's story with others.
3:15 p.m. to 4:45 p.m.
Established by Artists
Moderated by Erika Wilhite, Panel: John Cooper, Kelsey Karper, romy owens, and Carter Sampson
Driven by optimism and a commitment for service, Oklahoma artists are increasingly leading the way in community development initiatives. By establishing solution-based programs or organizations, local artists are building new opportunities for other artists to work, thrive, and create community-engaged artwork in Oklahoma. Founders of the Red Dirt Relief Fund, Inc., the Rock and Roll Camp for Girls OKC, and Current Studio will share how they identified local needs and created innovative resource models.
5:00 p.m. to 7:00 p.m.
Opening Reception at the Oklahoma State University Museum of Art
720 S. Husband St.
Join your Stillwater community hosts and fellow conference attendees for an evening of good company, hors d'oeuvres, and fabulous art. Conference guests will have the chance to view special exhibitions, including Our People, Our Land, Our Images and From the Belly of Our Being: Art By and about Native Creation. The reception will include a performance by Roams the Earth Dancers, an inter-tribal dance troupe. Dancers, singers and drummers from various nations will engage and educate the audience with dances that are shared throughout North America among various American Indian Nations whose styles mainly focus on the female regalia.
6:00 p.m. to 8:00 p.m.
Open House at Multi Arts Center
1001 S. Duck Ave.
Stop by the Multi Arts Center, Stillwater's community arts facility where the arts and imagination thrive. The Multi Arts Center offers opportunities for people of all ages to participate in a wide variety of community-based arts programming. The gift shop and gallery space feature the artwork of Oklahoma artists. There will be tours of the facility and demonstrations of stained glass, jewelry-making, and pottery. Light refreshments will be provided.
8:00 p.m. to 10:00 p.m.
Perpetual Motion Dance Performance
Seretean Concert Hall, located at 123 Seretean Center
Be inspired by the contemporary dance of Perpetual Motion Dance Company. Presented by Allied Arts at Oklahoma State University, this show will include original postmodern and aerial dance techniques. Based in Oklahoma City, their repertory is evocative and visceral, and aspires to harness the energies of the human imagination. Tickets are $15 for adults, and $10 for OSU students and children 12 and under. Tickets may be purchased by calling 405-744-7509.
8:00 p.m. to 11:45 p.m.
Café Kzany
A late-night talent show presented by the Stillwater Host Community Committee
Iron Monk Brewing Company
519 S. Husband Street
Wednesday, October 26

8:00 a.m. to 5:00 p.m.
Registration Open at the Wes Watkins Center
8:00 a.m. to 9:30 a.m.
Arts in Education News from the Oklahoma State Department of Education
Presenter: Rebecca McLaughlin
Join Rebecca McLaughlin, Director of Gifted Education, Advanced Placement and Arts in Education for the Oklahoma State Department of Education (OSDE), to learn more about current trends in arts education throughout Oklahoma. McLaughlin will share information on state standards in the arts and state initiatives that will affect the arts in our schools. Participants will learn more about what schools need and how arts organizations and individuals can work together in supporting arts education. Ample time will be allotted for Q&A.
9:45 a.m. to 11:15 a.m.
10 Tools for Building New Audiences
Presenter: Donna Walker-Kuhne
This workshop will present tangible strategies for building and expanding multicultural audiences for the arts. The format includes an overview on national trends on engaging diverse communities including the following topics: the impact of immigration, target demographics, generational marketing, 10 tools for building communities, social media and the impact of press, publicity and advertising on multicultural audiences.

9:45 a.m. to 11:15 a.m.
Create Your Work in an Inspiring Place: All about Artist Residencies
Presenter: Liz Roth
Artist residencies are opportunities ranging from two weeks to one year for artists to create work in a different environment. They range from sophisticated multimedia labs to rustic studios in national parks to international collaborative opportunities. Artist residencies for visual, performing, and literary artists exist across the United States and internationally, and they are awaiting your application. Many of them are free, and all are invigorating. Roth has been awarded 12 residencies in the United States, Japan, and China. She will explain what residencies are, how to find them and how to create a winning application for them.
9:45 a.m. to 11:15 a.m.
Oklahoma Public Art Network Meeting
Presenters: Jackie Harrison, Robbie Kienzle, Heather Lunsford, Holly Moye and Jennifer Scanlan
The newly formed Oklahoma Public Art Network aims to connect Oklahoma communities and artists who share an interest in creating public art. Through regular meetings and online educational resources, the statewide network will collectively increase the visual landscape of our state, benefiting our populace and art collectives. This inaugural network meeting is open to anyone who would like to learn more about available resources for public art and how they can increase opportunities for public art programs in their community.

9:45 a.m. to 11:15 a.m.
Class Acts: Building Partnerships to Strengthen Arts Education
Moderated by Jeff Poulin. Panelists: Dr. Brad Benson, Suzanne Hylton, Rhonda Taylor and Susan Teeters
Across Oklahoma, schools are facing reduced budgets and increased challenges when it comes to providing arts education for students. Arts and cultural organizations are taking a lead role to fill in the gaps by developing partnerships with local schools. Collaboration can help schools and community organizations leverage limited resources for students' benefit. Data collected from a recent Oklahoma Arts Council school survey, which includes the specific challenges and needs identified by schools, will be shared with participants. This session will focus on successful strategies for initiating and sustaining school and community partnerships for arts education.
9:45 a.m. to 11:15 a.m.
At the Table: the Community Meal as a Platform for Socially Engaged Art
Moderated by Erika Wilhite, Panelists: Rachel Reynolds Luster, Anna Metcalfe, Nick Vaughan, and Jake Margolin
Through the organization of communal meals, artists are merging art and food to foster dialogue and create socially engaged work. A forum for activism, sustainability, and community building, these artist-initiated gatherings often nourish the body and mind while breaking down barriers and addressing social issues. Panelists will present examples of community meals they have orchestrated.
11:30 a.m. to 1:00 p.m.
General Session Luncheon
Performance by Songs from the Mountains and the Prairies featuring Nathan Eicher, Shelby Eicher, Monica Taylor, and Jared Tyler
Moderator: Amber Sharples, Executive Director, Oklahoma Arts Council
Remarks: Julia Kirt, Executive Director, Oklahomans for the Arts
Special Guest Speaker: Burns Hargis, President, Oklahoma State University
Leadership Arts Class of 2016 Graduation
Announcements
1:15 p.m. to 2:45 p.m.
Growing Cultural Participation and Engaging Diverse Audiences: Tactics, Challenges and Success
Presenter: Donna Walker-Kuhne
This presentation will highlight national and international trends in cultural diversity and examine the challenges in engaging, marketing, and sustaining relationships with targeted communities. Case studies will be shared to illustrate leadership, effective campaigns for growing cultural participation, and measurements of success.
1:15 p.m. to 2:45 p.m.
Pricing Your Work: A Session for Artists
Presenter: Anna Metcalfe
Discover an analytical approach to defining key elements that will help you calculate the costs and prices of your art for a variety of markets. This session will illustrate the factors of product production that apply to all items in the market. Once you understand what each of the variables are, you will be able to customize a formula for yourself that fits your individual business model.
1:15 p.m. to 2:45 p.m.
Walls with Story: Best Practice for Planning and Implementing a Community Mural Project
Moderated by Robbie Kienzle. Panelists: Susan Atkinson, Dylan Bradway, Kristopher Kanaly, Brandi Morrow, and romy owens
Murals are commonly used as an intervention tool for solving physical space issues, preventing crime, and creating a sense of place. By beginning the process with a strong framework for best practice, you can ensure that your local mural projects are sustainable, valuable investments for engaging the public, and building community pride. This session will cover topics such as site selection, safety guidelines, rules and ordinances, budgets, artist selection, contracting and compensating artists, and the importance of celebrating the project completion.
1:15 p.m. to 2:45 p.m.
Uniquely Oklahoma: How Crazy Smart Radio Supports, Promotes and Validates Local Arts and Culture
Panelists: Kelly Burley, and Ryan LaCroix
As Oklahoma State University's member-supported public radio station, KOSU is a conduit for community, connecting people to each other and to the world. Through a vibrant exchange of information, ideas, and artistry, KOSU explores the human experience in a uniquely Oklahoma way that compels the mind and nourishes the spirit. With stations on the OSU campus in Stillwater and Oklahoma City's Film Row District, KOSU is committed to supporting Oklahoma's unique art, music, and culture.  Panelists will discuss the philosophical foundation of KOSU, the stories that they seek to tell, and how KOSU can help Oklahoma's artists, musicians, and arts organizations reach new audiences.
1:15 p.m. to 2:45 p.m.
Navigating New Landscapes: Creative Problem Solving through Experimental Theatre
Facilitated by Erika Wilhite
By employing the vocabulary and techniques of theatre in a "town hall meeting on your feet," this interactive session will include group exploration in response to the questions we face as an arts industry:  How do we navigate new territory? How do we safely traverse through rough landscapes and get around road blocks? The group will work together, utilizing creative and experimental theatre exercises, to excavate new energy, inspiration, techniques for conflict resolution, and next steps for strategic planning.
2:45 p.m. to 3:15 p.m.
Break
Take time to visit with colleagues, stop by the resource tables, or make an original poster at the Payne County Print-A-Thon. Lavanya Raghuraman and dancers of Alapana Arts will perform Bharatanatyam (Indian Classical Dance) in the International Exhibit Hall.
3:00 p.m. to 5:00 p.m.
Oklahoma State University Open House for Schools of Architecture and Visual and Performing Arts
Conference guests are invited to visit Oklahoma State University departments where creative learning and innovation thrive. The open house will include facilities such as the Donald R. Reynolds School of Architecture, the Bartlett Center for Visual Arts, and the Serentean Center for the Performing Arts. Exhibitions will include student and faculty studio art and graphic design. Filmed and live performances by music and theatre departments will also be featured. Light refreshments will be available. Maps and directions to the featured departments will be provided at the conference registration desk.
3:15 p.m. to 4:45 p.m.
Marketing and Social Media for Artists
Presenter: Anna Metcalfe
Define your product, discover your target audience, make decisions about how you sell your work and identify a budget and strategy for your artistic business. This session will explore the core elements of marketing, providing research resources and exercises to help you define and refine your product and target market with a focus on an online strategy for your artistic business.
3:15 p.m. to 4:45 p.m.
Know Who You Serve: Audience Statistics
Moderator: Kelsy Karper, Panel: Peter Dolese and Paige Williams
What information do you know about your audiences? Who visits, participates, and benefits?
Audience information can help you with many things like making a case for public support, soliciting sponsorships, making program decisions, and more. This session will examine practical ways to track visitors and gather more in-depth data. Use this information to tell the story of who your programs reach and how your community is improved. This session is oriented to organizations that know they could improve much in this area.
3:15 p.m. to 4:45 p.m.
Native Artists Speak: Oral History as a Resource for Education and Advocacy in the Arts
Presenters: Dr. Julie Pearson-Little Thunder and Louise Siddons
Through the documentation of artists' oral histories, their formative experiences, career trajectories, and diverse approaches to their respective media become a source of invaluable cultural information. In turn, collective oral histories can be used in classroom research, arts advocacy, and formulating arts policy. Examples from the Oklahoma Native Artists Oral History Project will be utilized to illustrate this topic.
3:15 p.m. to 4:45 p.m.
Preventing Burnout and Cultivating a Healthy, Sustainable Practice
Presenter: Kelly Rogers
The extra time, energy, and passion that cause-driven work demands can lead to exhaustion, burnout, and high turnover of employees. For artists, arts educators, and arts managers, the work itself is often the reward. However, the high demands to create from the heart and constantly give generously, especially when resources are limited, can leave us depleted and stressed out. This session will begin with a basic framework for how to identify conditions that can trigger feelings of helplessness or lack of motivation. Methods for preventing burnout will be shared, followed by a group discussion on how we as a collective arts and cultural industry can better support each other.
3:15 p.m. to 4:45 p.m.
Defining Quality of Life through the Art of Storytelling
Moderated by Erika Wilhite
"Quality of life" is a term we often use when making a case for the arts, but the term itself is abstract.  Because arts experiences are multidimensional by nature, it's nearly impossible to measure and quantify their value. Through the use of personal storytelling, Leadership Arts class members will share individual, creative three-minute presentations on how arts and culture is symbiotic with their own quality of life. The presentations will be followed by a group dialogue about how storytelling can be an effective tool for advocacy.
Cimarron Breeze Concert and Supper featuring Jimmy LaFave & Night Tribe
Old Church Center
Oklahoma Territorial Plaza
Perkins, OK
5:00 p.m. Supper
6:15 p.m. to 8:15 p.m. Concert
Complete your Oklahoma Arts Conference experience with a Wednesday evening supper and performance by one of Red Dirt Music's pioneers, Jimmy LaFave and his band Night Tribe. An award-winning folk singer-songwriter, LaFave was among a group of songwriters who developed the Red Dirt Music sound at a local Stillwater venue known as The Farm. The event will take place at the Old Church Center, a uniquely preserved historic venue located just 10 minutes south of Stillwater in Perkins, Oklahoma.
A separate ticket must be purchased to attend this event. Tickets are $40 per person, prior to October 1.  Availability is limited. First come, first served. More information about the concert venue is available at www.cimarronbreeze.com.
Questions?
For more information email us at conference@arts.ok.gov.