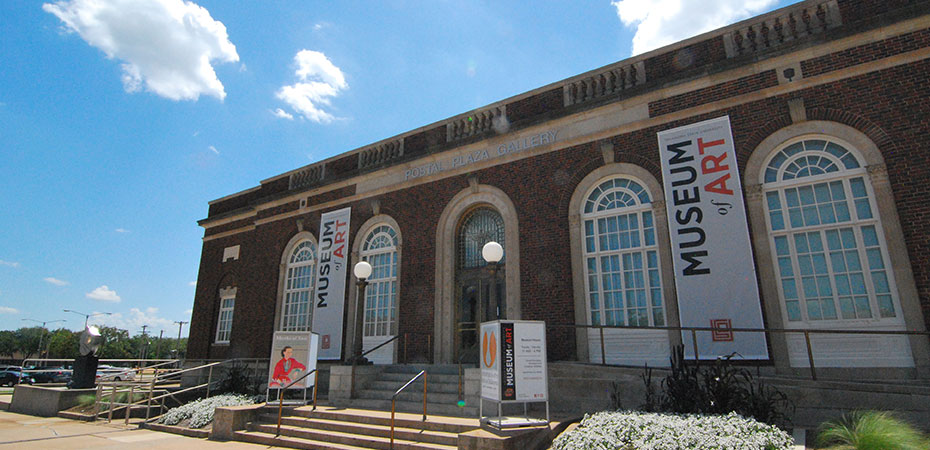 Things to See and Do in Stillwater
Restaurants
Aspen Coffee Company, locally-roasted coffee and homemade baked goods
aspencoffeecompany.com

Downtown Stillwater – 111 W. 7th St.
Drive-Thru – 139 S. Duck St.
Lakeview – 1908 N. Perkins Rd.

Brad's Barbecue, rustic barbecue restaurant with sandwiches, platters, and sides
badbrads.com – 3317 E. 6th Ave.
Blue Spruce, locally-owned downtown gelato and coffee shop
facebook.com/bluespruceok – 724 S. Main St.
Brooklyn's, contemporary comfort food in the middle of Downtown Stillwater
brooklynsrestaurant.com – 701 S. Main St.
Da Vinci's Italian Ristorante, authentic Italian cuisine including traditional pasta dishes and handmade pizzas
davincisstillwater.com – 2280 N. Perkins Rd.
Eskimo Joe's, American restaurant and bar located one block away from campus
eskimojoes.com – 507 W. Elm Ave.
Freddie Paul's Steakhouse, locally-owned with a wide selection of steak, seafood, and salad
beststeakinstillwater.com – 1707 E. 6th Ave.
Golden Dragon Café, Chinese and Thai cuisine for lunch, dinner, or take-out
chineserestaurantstillwater.com – 203 S. Perkins Rd.
Kyoto Japanese Restaurant, serving traditional Japanese dishes such as sushi and hibachi down the road from Lake Boomer
kyoto-hub.com – 2021 N. Boomer Rd.
Louie's Bar and Grill, casual and classic American pub in Downtown Stillwater
louiesgrillandbar.com – 720 S. Main Street
Main Street Noodle, ramen, pho, and sushi restaurant located in Downtown Stillwater
facebook.com/mainstreetnoodle – 622 S. Main St.
Mexico Joe's, a festive Sonoran-Mexican restaurant located minutes from campus
mexicojoes.com – 311 E. Hall of Fame Ave.
Nagoya Japanese Sushi and Steakhouse, modern and classic Japanese dishes in northern Stillwater
stillwaternagoya.com – 2260 N. Perkins Rd.
Thai Café, serving Thai specialties, including a signature coconut-crusted chicken dish
405-372-8886 – 502 S Husband St.
The Daily Grind, a favorite coffee shop amongst OSU arts students and faculty
405-612-4631 – 230 S. Knoblock St. (inside The Original Hideaway Pizza)
The Garage, offering burgers, drinks, and games across the street from the Gardiner Art Gallery
eatatthegarage.com – 520 W. Elm Ave.
The Hideaway, the original location, featuring build-your-own pizzas and other affordable dishes
thehideaway.net – 230 S. Knoblock St.
The Rancher's Club, a fine-dining steakhouse serving Oklahoma-grown produce and meat
theranchersclub.com – Student Union, Oklahoma State University
Tokyo Pot, Oklahoma's first shabu-shabu restaurant, where diners cook their own meats and veggies
facebook.com/tokyopot – 108 W. 10th Ave.
Places of Interest
The Botanic Garden at Oklahoma State University, an arboretum, nursery, and garden with numerous walking trails
botanicgarden.okstate.edu – 3425 W. Virginia Ave.
Gardiner Art Gallery, a departmental art gallery on the southeast corner of campus featuring various student/faculty exhibitions and national shows
405-744-4143 – Bartlett Center for the Visual Arts, Oklahoma State University
The Multi Arts Center offers opportunities for people of all ages to participate in a wide variety of community-based arts programming. The gift shop and gallery space feature the artwork of Oklahoma artists. - 1001 S. Duck Ave.
National Wrestling Hall of Fame and Museum, over 600 exhibits that highlight the history of wrestling can be found at this museum on the northeast side of campus
nwhof.org – 405 W. Hall of Fame Ave.
Oklahoma State University Museum of Art, located in the former 1933 Postal Plaza building downtown, the Museum opened in 2014 and features traveling exhibitions as well as a permanent collection
museum.okstate.edu – 720 S. Husband St.
Oklahoma WONDERtorium, a children's museum with numerous interactive exhibits and playscapes that encourage creative and developmental play
okwondertorium.org – 308 W. Franklin Ln.
Sheerar Museum, a downtown museum highlighting the history of Stillwater and Payne County
sheerarmuseum.org – 702 S. Duncan St.
Washington Irving Trail Museum, a museum featuring many artifacts, antiques, and collectables that tell the story of Oklahoma's history
washingtonirvingtrailmuseum.com – 3918 S. Mehan Rd. Ripley, OK
Questions?
For more information email us at conference@arts.ok.gov.