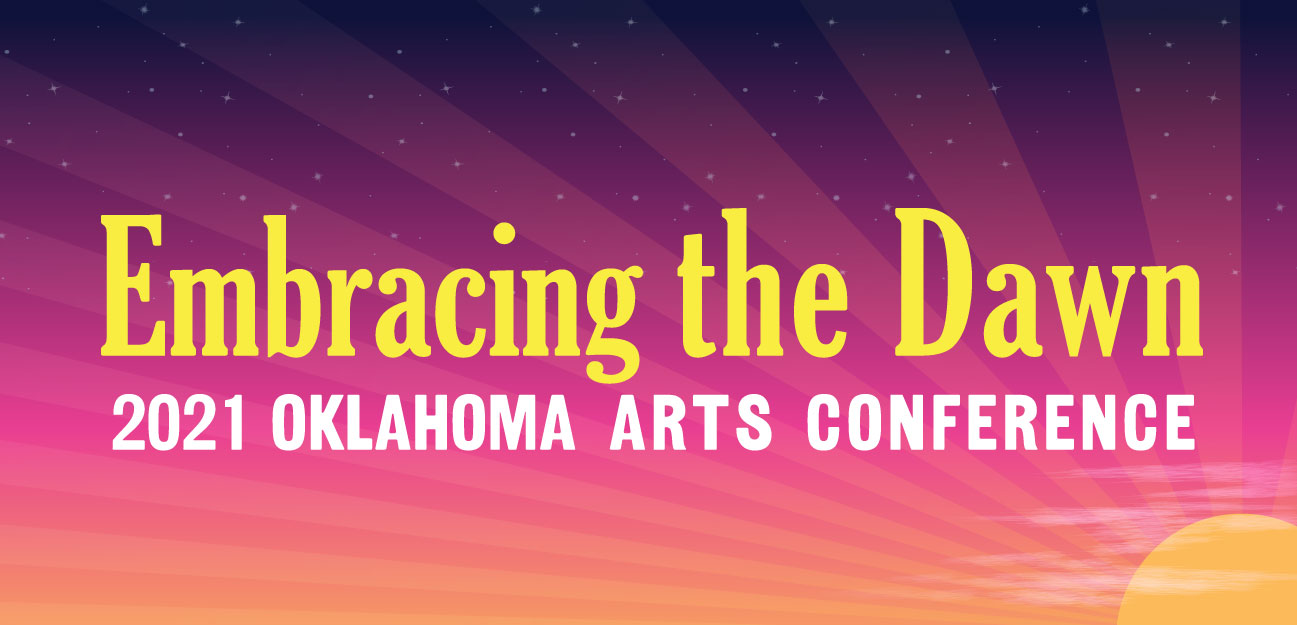 2021 Oklahoma Arts Conference
Conference Schedule
Pre-conference
Wednesday, October 27, 2021
Thursday, October 28, 2021
Friday, October 29, 2021

9:00am - 9:45am
Welcome to Muskgoee
Location: Muskogee Civic Center, 425 Boston St.
Room: Meeting Room E

Join your Muskogee hosts as they welcome you to the 2021 Oklahoma Arts Conference and provide information on how to make the most of your entire conference experience.

10:00am - 11:30am
Hope Rising: An Opening Keynote Talk with Dr. Chan Hellman
Location: Muskogee Civic Center, 425 Boston St.
Room: Meeting Room E
The concept of hope has emerged as an essential factor in the well-being of children, adults, and families. During this presentation, Dr. Chan will discuss the science of hope as a psychological strength in our ability to cope with adversity and traumatic experiences. In particular, this presentation will summarize more than a decade of research that show, (1) hope predicts positive outcomes; (2) hope buffers the effects of adversity; and, (3) hope can be nurtured and sustained.

Participants will learn:

1. The science of hope and its core components that lead to goal attainment
2. How hope can help overcome adversity on the path to well-being
3. Research-based curriculum on strategies to nurture hope in children, adults, and families

11:30am - 1:00pm
General Session Luncheon
Location: Muskogee Civic Center, 425 Boston St.
Room: Banquet Rooms C & D

1:30pm - 2:45pm
About the Oklahoma Arts Education Dashboard
Location: Muskogee Civic Center, 425 Boston St.
Room: Meeting Room E

With more than 500 school districts across Oklahoma, how can students, parents, educators, and arts supporters learn about the availability of fine arts education in Oklahoma schools? The Oklahoma Arts Education Data Project is a provides an interactive dashboard that sheds light on where arts education is offered and where it is needed. Learn how to use this powerful tool to examine access to arts education by grade level, discipline, location, and more. The Oklahoma Arts Education Data Project has been made possible through a partnership with Oklahoma State Department of Education, Oklahomans for the Arts, the Kirkpatrick Family Fund, and the Oklahoma Arts Council.

1:30pm - 2:45pm
On Track for Success: The Story of Muskogee's Depot District Development
Location: Muskogee Little Theatre, 311 S. 3rd Street
Room: Theatre

The Muskogee Depot District and the Depot Green, which serves as an outdoor oasis in the middle of the historic district, are places for people of all backgrounds to enjoy. With increased community ownership and economic growth as goals in the development of the district, the vision for the area required collaboration of several stakeholders, and was prompted through funding through the Oklahoma Arts Council's Cultural District Development Program. Grants from the program supported the creation of a brand for the district and helped stakeholders secure funding and additional relationships to bring the project to completion. In this session, attendees will hear about the ideation and implementation, including successes and challenges, of one of downtown Muskogee's newest cultural assets and activity hubs.

1:30pm - 2:45pm
Pandemic Power Up: Leading Through Challenging Times
Location: Muskogee Little Theatre, 311 S. 3rd Street
Room: Lobby

Times are certainly challenging for those in leadership positions. Now, more than ever, we need leaders who know how to power up and lead their teams through the unknown. In this workshop, you'll learn the top five skills that all leaders need in order to help themselves and their teams navigate even the bumpiest roads. From managing conflict to creating inspiration and alignment, this session will help you learn to embrace the toughest of times, and turn challenges into opportunities.

3:15pm - 4:30pm
The Power of Personality in Leadership
Location: Muskogee Little Theatre, 311 S. 3rd Street
Room: Lobby

Effective communication, decision-making, conflict management, and resilience to change: new psychological and behavioral science research is connecting high-impact leadership to an individual's own unique personality. In this session, you'll learn to uncover your potential by understanding yourself and those around you on a deeper level. You will also discover how to leverage the unique personalities, strengths, and life experiences of those on your team while learning about the unique powers of your own personality.

3:15pm - 4:30pm
What We Learned in The Resilience Project
Location: Muskogee Civic Center, 425 Boston St.
Room: Meeting Room E

In this PLAYshop, Pat Webb will share learnings from 10 years of teaching mindfulness and resilience in PreK-12 schools across Oklahoma. Challenges, benefits, and ongoing practices will be shared. This will be an interactive presentation where participants will try several actual exercises from the program with time to reflect on how the exercises can be used in their own situations to enrich the classroom experience or even the experience of a group of adults. The Resilience Project library of children and adult resources will be shared.

5:00pm - 7:00pm
Opening Reception
Location: Oklahoma Music Hall of Fame, 401 S. 3rd Street
Room: Ballroom

Join your Muskogee hosts and fellow conference attendees for an evening reception. This conference tradition offers conference guests a fun time for networking and celebration. Live music and hors d'ouevres will be provided.
Receive updates about the Oklahoma Arts Conference.
Questions?
For more information contact our Assistant Director.